There are some who will lay everything about the final production in Signature Theatre's Kander and Ebb Celebration — good or bad — at the feet of Chita Rivera. After all, not only has Signature put Rivera on the stage, they have teamed her with fellow Tony Award-winning actor George Hearn. This isn't a mere performance. This is an all-star game. This is, as Signature's marketing reminds us with its New York subway inspired typography, "BWAY" in D.C.
But the question remains. Is the star power merely on stage for the sake of lighting an old school marquee in Shirlington? After all, if the rumors about the death of the musical are true, shouldn't it go out with a proper New Orleans-styled funeral procession?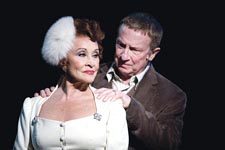 The Visit
Make it big. Make it loud. Make sure it ends with a standing ovation.
The cynical list could go on and on, but here's the reality. Rivera and Hearn are paying the Washington area a very proper visit with The Visit. And make no mistake — the two are surrounded by a cast that will quickly rid audiences of the idea that this production is a prolonged duet.
The Visit takes the melancholy that marks many of Kander and Ebb's better known musicals and sharpens it to a gruesome point. Claire Zachanassian (Rivera) returns to her hometown of Brachen (located somewhere in Switzerland) after marrying and either burying or divorcing quite well for many years. The once thriving village has fallen into desperate poverty and the residents just as desperately hope that Zachanassian has returned to save them all.
And she has. Almost.
A few items should be cleared up from the very start. This is not a show that will send you off into the world singing a bit of the score. The music in The Visit is complex and unwinds like a strong and sure-handed narrative. Song more than serves the story, it builds the tension and quickens the pulse and frustrates ones belief that there is always a happy ending. Music is architecture.
Rivera quickly makes herself at home on The Max stage. The energy she exudes is not because she is a Broadway performer of legendary status; it is why she is that performer. Certainly the voice has aged — though the argument can and should be made that it has done so like good Kentucky bourbon. Full and mellow and all the better for making your toes curl.
She is well met by Hearn who is the very definition of a leading man. A generous actor with a powerful instrument, his is a brilliant performance.
Also notable are the cast members making up Claire Zachanassian's entourage. Thanks to the inspired work of costume designer Susan Hilferty, Zachanassian's bodyguards Lenny (Howard Kaye) and Benny (Alan H. Green), her butler Rudi (James Harms), and her… well… eunuchs Jacob Chicken (Ryan Lowe) and Louis Perch (Matthew Deming) collectively make up one of the production's most stunning visuals. The picture is perfectly matched by the group's spot-on performances including the disturbingly co-dependent ballad "I Would Never Leave You."
THE VISIT
Signature Theatre
4200 Campbell Ave.
Arlington
To June 22
$61-$76
703-820-9771
www.sig-online.org
There are, however, some parts of this visit that fail to serve the production. Young Claire (Mary Ann Lamb) illustrates that instance where the disconnect between the "present" and "young" versions of a character is too jarring to work. There is a distinct lack of emotional presence when Lamb takes the stage — she wears a single expression like a mask — and that causes her performance to feel out of sync with the ensemble.
And while it certainly is a minor point that will make no sense at all to those who have not yet seen The Visit the question must be asked, "What was the thinking behind the trench coats?" Really.
While The Visit will extend past the three-days advocated by Benjamin Franklin, there is no evidence that these guests will overstay their welcome. Indeed, many will wish they'd be in town a bit longer.