Ladies and gentlemen, bois and grrls of all ages, E-Cleff has entered the building. And judging from past experience, she might take few hearts when she takes the stage: "Three or four years ago at Chaos, sure enough, panties hit me right in my face."
But how many ways are there to tell a drag king/male illusionist you're enjoying the show? E-Cleff, known off stage as Ebone Bell of B.O.I. Productions, says a lady's unmentionables express a great sentiment, and that's just what she wants: appreciation, more than underpants.
"I want to give a good show," E-Cleff insists. "I really care about what we put on stage. If people are going to come see you, you should put on a great show each and every time. We definitely feed off the crowd — the more people the better."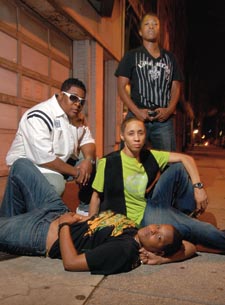 The Bad Boys
This season, E-Cleff is drawing crowds aplenty. Fresh off a DC Black Pride performance, E-Cleff, as part of the Bad Boys — with Rocky (Sharon Humes), Shawn (LaShawn Johnson) and Taz Majik (Sabrina Hawkins) — E-Cleff will take to the stage during the official Capital Pride Women's Dance Party at the 9:30 Club on Friday, June 13. Despite the bad-luck date, E-Cleff and the boys are putting in enough time that they won't need to depend on luck.
"I'm always nervous. If I never got nervous, I'd need to stop performing. The good news is a lot of what we're doing, we've already done. But I guarantee you, we're going to get together and rehearse twice a week before the women's party."
And though Bad Boys have only been together for about a month, E-Cleff assures that none of them are new to choreographed shows as drag kings. As a matter of fact, three of the four had been doing it together for years in troupe called ROCKETT.
"We disbanded about a year ago," says E-Cleff, adding that they performed on the Capital Pride main stage in 2006. "We had a good run. The break-up wasn't like The Supremes — we just got busy with girlfriends, jobs, and life happened."
Wherever you may have seen them perform in the past, be ready for something new at Capital Pride.
"For the folks who saw our performance during DC Black Pride, they haven't seen anything yet," E-Cleff says of the Bad Boys' dance moves. "It will be somewhat similar, but it's going to have a big twist. We're really going to use all the stage. They can expect a high-energy, hip hop, Top 40 experience — with a lot of sexiness."
E-Cleff is scheduled to perform Sunday, June 15, at approximately 12:20 p.m. on the Capital Pride Festival Mainstage, closing out the day's entertainment. Time subject to change.