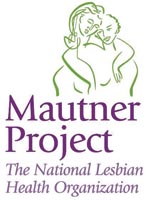 "I'm proud that we are standing," says D. Magrini, health education director at the Mautner Project, a lesbian health organization. "The idea that an organization that serves lesbian, bisexual and transgender women is thriving is really important in the political climate that we live in."
Not only is the Mautner Project standing, it's moving. Just in time for Capital Pride, the Mautner Project has moved from 17th and L Streets NW to 1875 Connecticut Ave. NW.
The group's roots, of course, remain constant. Susan Hester founded the Mautner Project in 1990, shortly after the death from breast cancer of her partner, Mary-Helen Mautner. The organization works to improve the lives of lesbian, bisexual and transgender women and their families through advocacy, education, research and direct services, including phone support, resource referrals and support groups and educational programs. These include "Removing the Barriers," which educates health care professionals to be aware of and sensitive to lesbian health issues; and "SHE-Circle," a program dedicated to improving the health and wellness of African-American same-gender loving women.
Mautner Project's new executive director, Leslie Calman, is confident of Mautner Project's future.
"We just had a clear vote of support from the Susan G. Komen for the Cure Foundation," says Calman, "who has given us a half-million-dollar grant over the next 2 years to help build up our capacity to develop education and programs."
And Mautner Project is proud to have the support of lots of D.C.-area men: "The Men of Mautner annual event makes that pretty clear," Magrini says. "Men are active members of our board, and we have lots of men who support us."
At Capital Pride, Magrini says she hopes the Mautner Project gains visibility.
"The hope is that we widen our client base, that folks know that we're there to offer support through client services, that we have educational programs that will help women improve their health, and that we're an organization that's fun to volunteer with."
For more information about the Mautner Project call 202-332-5536 or visit www.mautnerproject.org.