Time is of the essence to Melange Lavonne.
"I'm a cancer survivor. I realize life is short," says the lesbian rapper from Southern California. "I'm living in the moment. I want to give people hope."
Lavonne has been rapping for about eight years, but she just came out publicly in the past year, with the release of the powerful song "Gay Bash." The song's video features Lavonne dramatically taking to a pulpit to speak out against using "scripture to hate." After frequent rotation on gay cable channel Logo – and a nomination as one of the channel's best videos of 2007 – "Gay Bash" is now screening at select gay film festivals, a rare feat for a music video. The response is especially gratifying, since Lavonne had to take out a loan to make it.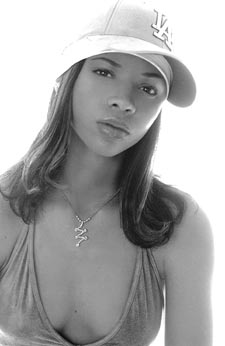 Melange Lavonne
But Lavonne is making sure that's just the first in a planned string of exposures. She's currently preparing to act in two television shows, both intended to air on Logo. And she's just released a new album, The Movement – the title of which she hopes to make reality. The album, her second, includes another song "I've Got U," which passionately defends gay parenting. She's just wrapped production on a video for that, again with director Camrin Pitts.
"My whole thing is, it's political season," says Lavonne. "It's really important to get these messages out, so people can vote for the right reasons." The 30-year-old rapper is thrilled to be a part of Capital Pride, one of her very first Pride performances. Pride "is definitely new and exciting for me. It's a pleasure and an honor. I'm so stoked."
Lavonne grew up the baby of her family and is still close to her parents – "my best friends," she calls them. Lavonne is actually the rapper's middle name, and her adopted first name is the French word meaning mixture or combination. "I consider myself a mixture of life – of backgrounds, of struggles. You mix it up and you have this strong person, this willing person, this open person, this honest and faithful person."
She sees herself as "a voice for other people." For example, with "Gay Bash," she explains, "I haven't personally lost anybody from a murder like that, but people have reached out about friends they've lost, so I thought it was important to put that type of song out there."
On "I've Got U," her sweet, gospel-steeped gay parenting song, the currently single and childless Lavonne is speaking hypothetically. "I want to get married and I want to have kids, but until then, I'm representing for those who are already married and have kids." The gay parents she's met, she says, are "just amazing, they're so loving. The world needs to see this."
"If I'm gonna do hip-hop," explains Lavonne, "I'm going to utilize it to the best I can. I'm not gonna spit some negative stuff. I'm not gonna spit about cars and money and stuff I can't relate to. I want to leave this earth knowing that someone picked up on something positive from me."
Lavonne got laid off from her job last year, a development she calls a "blessing in disguise."
"I wouldn't have been able to do all these shows," she reasons, referring to her summer national tour schedule, or devote most of her time to pursuing her music and acting projects. She also returned to school, for computer networking.
Lavonne was diagnosed with Hodgkin's disease in 1991, when she was only 12 years old. Through chemotherapy and radiation, she beat it into remission. But a few years ago, she was diagnosed with cancer anew, a rare tumor of the thyroid. Her doctors believe it was a result of the radiation she underwent for Hodgkin's. Because its rarity, they're not sure how to treat it, she says. She hasn't yet rapped in detail about her struggles with cancer, though she has blogged extensively about it on her MySpace page.
"I'm not sure what my status is, so that's why I do what I do. I don't know what's going to happen tomorrow or next week or next month," Lavonne says. "I just try to have a positive attitude, just keep going and make the best of being here.
"I don't want anybody to feel sorry for me," Lavonne continues. "I'm blessed. I feel that my music is something that God is using me for."
Melange Lavonne is scheduled to perform Friday, June 13 after 11 p.m. during the Official Capital Pride Women's Dance Party, and Sunday, June 15 at approximately 3 p.m. on the Capital Pride Festival Mainstage. Times subject to change.
From YouTube: Melange Lavonne, 'Gay Bash'