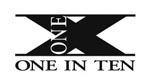 Margaret Murray, executive director of One In Ten, was brand-new to Washington when she found herself walking through the 2006 Capital Pride Festival along Pennsylvania Avenue.
"It really did showcase this amazing community that's here," the Florida native recalls. "I really felt like I had come home. It made me think taking the job with One In Ten was the best decision I ever made."
With One In Ten, Murray was taking the reigns of an organization that not only once stepped in to run Capital Pride, but is famously known as the cultural caretaker of the D.C. GLBT community. Since 1991, the organization has given the nation's capital the Reel Affirmations International Gay and Lesbian Film Festival. Add to that myriad other offerings that have joined the lineup as the organization grows. There's the "Divas Outdoors" outdoor film series, the "Walk the Red Carpet" fundraiser and the "Plant a Seed" award program, to name a few.
"It seems that every year we do something bigger and better during the summer Pride season," says Murray. "This year, we've expanded 'Divas Outdoors' to three screenings — it's becoming known as one of the outdoor film series not to miss. With the return of Laugh Out Loud, June 28, we've partnered with All Out Films, taping a live show for Logo. That will start airing in October — just in time for Reel Affirmations."
For anyone who wants to make the transition from audience to participant, now is the time, says Murray.
"We're actually kicking off planning for the 2009 Reel Affirmations festival, so now is a perfect time to get involved."
For more information call 202-986-1119 or visit www.oneinten.org.