If you have ever glanced in the window of one of those stately old D.C. pastry shops, the kind where the display of multi-tier cakes and petit-fours looks like it hasn't changed in decades, you may have caught the vibe. It's that flashback to dark ties, white shirts, Cold War woes and perfect meringues, that ghost of Washington past that lives on in PBS regurgitations redolent with the horror of nuclear war and the kind of nostalgia that only fuzzy color photos can induce. Well, if such moments leave you hankering to indulge and there is nothing suitable on the box then you might consider spending an evening with the Round House Theatre's Nixon's Nixon.
Dramatized as a single night of curse-filled comedy and pathos amid the elegance of the Lincoln Sitting Room, this play brings us Nixon and Henry Kissinger grappling and debating the practical and spiritual ramifications of Nixon's legacy as the president faces potential impeachment. It is a lesson in both historical and modern reference with no degree in either required. Indeed the program notes inform us of the former while the latter readily takes care of itself. Who among us, for example, has not noticed the parallels between the Iraq War and Vietnam and who, for that matter, has failed to witness either the original or some excerpt of Dan Akroyd's Nixon?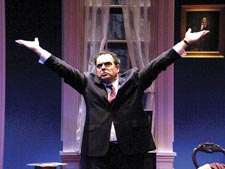 But the achievement of playwright Russell Lees, as brought to the stage by director Jerry Whiddon, is that such content and characterizations, though they nod to all that has come before, still find their own way to inform and amuse. We are familiar with the facts of Nixon's political life, but there is a new dimension to hearing it portrayed within passionate, emotional dialogue. We have seen all manner of Nixon impersonators, and although this performance gets plenty of mileage out of the classic caricature, the humor co-exists with a genuine creation of character.
And Edward Gero in the title role admirably walks the fine line between making Nixon his own and yet keeping him recognizable. He succeeds in embodying as much as he does in entertaining — and that's no easy task with such an oft-referenced, demonized public figure. What is also fascinating about this interpretation is how Gero manages, despite the graphic displays of the man's personal failings, to make Nixon rather likable in his hideousness. This illusion — and illusion it must be — saves the play from the grim cataloguing of a yet another Frontline. When it comes to Nixon, we've been there and done that with bells on, and Lees seems to take the view, or perhaps better, the license, of allowing a contemplation which is not completely driven by authenticity.
Kissinger, written as both foil and manipulator, is played by Conrad Feininger, who delivers his statesman within reasonable target range. Yet Feininger doesn't quite match Gero in comic touch and at times his antics are heavy-handed and overdone. And though Kissinger was a renown inscrutable, it is nevertheless hard to feel the essential connection between these two men. Repeatedly, as the night devolves amid heavy drinking, Kissinger makes to leave and Nixon finds a way to draw him back. These moments are the weakest within their dynamic — he stays and yet we do not really understand why. We do not have a sense of what is at stake for Kissinger. Yes, a motive eventually emerges, but surely there is more?
And, truth be told, these moments also hint at a play that is just a little too long for its subject matter. Yes, the premise is interesting, and yes, it is provocative in light of current events and, yes, Gero is thoroughly engaging, but about two thirds of the way through, the soul-searching and the comedy dollar feel spent. It is a riveting but brief moment in history, but less would have been more. Unfortunately, as with so many entertainments today, Lees hangs on for just those few minutes more and in doing so threatens to turn his audience from stimulated into saturated. Still, for anyone old enough to remember or savvy enough to care, this rare and unusual slice of Washington will keep the juices flowing.