Born and raised in the District, SaVanna Wanzer began advocating for transgender equality due to the rejection she faced from her own family.
"When I came out totally as a transgender woman, I was only accepted by a few of my family members who embraced me and loved me and said regardless of what I want to be called or what I want to do, they support me 100 percent," says Wanzer. "But my siblings — I have nine — they stopped talking to me."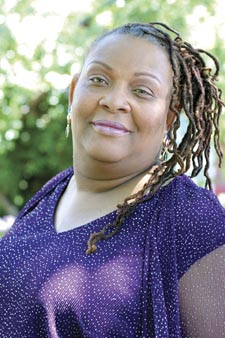 SaVanna Wanzer
Today, Wanzer serves on the board of directors at Whitman-Walker Clinic, for whom she had previously volunteered for seven years. Wanzer is also the founder of Capital Trans Pride, Washington's first Pride event celebrating the transgender community, now in its second year. Wanzer says she launched Capital Trans Pride after networking with pharmacists and doctors at Whitman-Walker Clinic who supported her cause.
"I asked them for funding and ideas, and support in passing the word on, and they responded."
For Wanzer, a member of the D.C. Trans Coalition, producing Capital Trans Pride is an effort to offer guidance and information to the transgender community, in addition to knocking down stereotypes, she says.
"I hope people have a different viewpoint on the transgender community. A lot of negativity has been formed, such as the transgender community are only sex workers or drug addicts, not positive members of society," she says. "I want people to know that we're well educated and that we can uphold jobs and do wonderful work in the community."
Wanzer says she is honored to be named a Capital Pride Hero, adding that she is proud of the life she is living today.
"I'm a well rounded woman now, a spiritual woman, who loves herself inside and out," says Wanzer. And while she may have been ignored by her siblings, today Wanzer says she is most proud of maintaining a meaningful relationship.
"I finally found someone who loves SaVanna for SaVanna and I'm proud of the relationship," she says. "We've been together for two years and he's a positive man that supports everything that I do."