Capital Pride Parade co-chairs Steven Walker and Eric Reader had watched every float and contingent kick off from the parade's starting point at 23rd and P Streets NW on Saturday, June 14, and were waiting on the final float — their own. The Capital Pride Planning Committee's ambitious float was slated to be the grand finale.
That's when they got the bad news.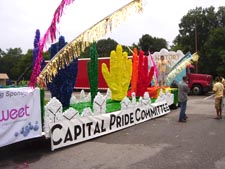 Capital Pride Committee float
"We got a call that the truck was stuck," Reader says of the tractor-trailer on which the Planning Committee's float rested. Even though the committee's float-makers had used the same type of tractor-trailer as in years past, the flatbed trailer, which sits about two feet above the ground, hit a bump on its way out of the parking lot. And there it remained.
"[The truck's] rear wheels just spun and [the driver] couldn't get any traction on the pavement to move forward or backward," Reader says.
It didn't take long, he says, for the float team to realize that their creation wasn't going anywhere. The only option left was to grab what they could — poles with glitter, banners, just about whatever they could carry — and march on foot.
The float the crowd missed was designed by Reader's partner, Glen Marsocci, who incorporated the Capital Pride logo of rainbow hands. Reader says it took volunteers nearly 20 hours to assemble.
"My saddest moment all weekend was coming around the corner to see our beautiful float, which had taken lots of dollars and lots of manpower to put together, sitting there helpless and unable to move," Reader says. "Conversely, one of my proudest moments was seeing our committee members ripping banners, poles with streamers…off our float and running after the parade, determined to be in it one way or another. While Steve [Walker] and I stayed back to help, our committee and the rest of the parade participants completed a very successful parade."
A forklift returned the float to the parking lot, where about an hour after the parade kicked off, it was unassembled in the rain.
To avoid any such bumps next year, Reader says the planning committee will look at different types of tractor-trailers that aren't as low to the ground, in addition to possibly assembling their float at a locale other than the parade kick-off parking lot.