Jason Warner and deMarco DeCiccio know they've sown some confusion out there.
"I think where people get confused is, are we gay? Yes. Are we spiritual? Yes. But our music is neither," says Warner, the lead half of the real-life couple who record and perform using just their first names, Jason & deMarco. "If I call our music anything, it's simply empowering. And everyone needs to be empowered."
Everyone: gay and straight, spiritual and secular. Easier said than done, of course. The contemporary Christian music industry isn't interested. "There really was no place in the industry for an openly gay artist," says Jason, who was "basically kicked out of the community" after he came out. He then moved from Nashville to Los Angeles to pursue a mainstream career.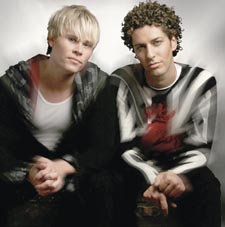 Jason and deMarco
But even the mainstream music community isn't very receptive if you're not an established gay artist with name recognition, from Elton John to Rufus Wainwright. "We've been shocked by how many responses we've gotten from people within the industry about, 'Oh, if you guys weren't so out…,"' according to Jason. "Forget the Christian industry. Is the mainstream industry even ready for it yet?"
Increasingly, the answer is… maybe. The premium cable channel Showtime is currently airing a documentary focused on the duo, which screened at several gay film festivals last year. And their music continues to find a home in clubs — and not just gay clubs, either. Remixes of previous singles "This Is Love" and "Trying to Get to You" found some success on the Billboard dance charts, and their new single, "It's Okay," has just been remixed for the clubs and already appears on the magazine's breakout chart, an early arbiter of success.
The boys are also gaining increasing recognition in the gay community, including as headliners for this year's Capital Pride.
"I was actually raised in Baltimore, so coming to D.C. is kind of like coming home for me, and I'm really excited," says Jason, who expects his family to be out in force.
Jason met deMarco nearly seven years ago, when deMarco waited on him at a restaurant in Los Angeles. "It was love at first sight — on his part," says deMarco. It wasn't mutual. DeMarco, new to L.A. from his native Toronto, was dating a girl and struggling with his sexuality at the time. But soon enough, he came around.
"When you fall in love with somebody, there's just a safety in that, and I didn't care anymore," deMarco says. "I didn't care what people said at work, I didn't care about what it meant for my acting and singing career. All I knew is that this was so much stronger — my love, our relationship, than anything else that mattered at the time."
Jason had been working on a solo career, but soon enough, they partnered up professionally as well as romantically. They've been at it ever since.
"It's a question that everyone wonders, including us: How in the world has this worked for so long? Because we've pretty much spent 24/7 [together]," says Jason. Being each other's best friend helps, he says, as does the fact that their differences complement each other. "Early on, we realized we had to just let the other be who they were."
Ultimately, it's their spiritual connection that binds them, says Jason: "We keep God at the center of our life, at the center of our relationship. And as issues come up, we face them and we deal with them together."
A sense of humor is also key. "If we didn't laugh," says Jason, "we probably would not be together."
deMarco agrees: "You can't take each other too seriously, life too seriously." The past couple years, he adds, "We're a lot more easy-going, and less uptight than we used to be. We're very evenly matched, and we just enjoy each other's company."
They do take pains to separate the personal from the professional. Their struggle to juggle that, as well as their journeys in the gay and Christian communities, is documented in Robert Nunez's Showtime documentary, We Are All Angels. The duo let Nunez film them as they were touring in support of their 2006 album, the secular-leaning Till The End of Time. But the film actually draws its title from a song on 2004's Spirit Pop, the hook of which is "We're all angels who've learned to hide our wings." It was the first time they had agreed to such filming, even though they say they had been approached a couple times prior, mostly for reality shows.
"We don't want our story exploited," explains deMarco. "We just had a really good feeling about Robert."
"I think it really transformed his opinion and his view of the gay community," Jason says of director Nunez's experience following their travels and meeting other gay people of faith. "When he heard about the gay community of faith, he always thought that they were like battered housewives that run back to their husbands. Here's the gay community that's been hurt by the church and they're trying to be a part of it. I think he was really moved to see that there were some gay and lesbians that participated and had some sort of spiritual life, and it was not just dressing up to play church."
Fortunately, Jason says, there's an increasing number of gay-affirming churches around the country. When they're not performing at churches of all stripes, Jason, raised Pentecostal, and deMarco, raised Catholic, prefer to attend Unity churches. "[They have a] very educated approach to spirituality, like a feel-good church," says deMarco.
For the couple, it was interesting to watch people's reactions to the film. "I couldn't believe when we were at the premiere in New York, how much people laughed," says deMarco. "We were pleasantly surprised that this is something that people find entertaining." The duo is currently recording a soundtrack of songs "inspired by" the film that they're calling We Are All Angels — B-Sides. That should be ready by August.
Jason says the duo, both of whom are in their early thirties, is still focused on its mainstream career. But they will eventually release another "inspirational album" along the lines of their debut Spirit Pop. "For about a year we were really trying to say, 'Okay, we're just going to be mainstream artists.' But I think what we've realized is we're independent already. We've never fit in any box. We don't have to do one or the other."
They can be both.
Jason & deMarco are scheduled to perform Sunday, June 15, at approximately 5:25 p.m. on the Capital Pride Festival Mainstage, closing out the day's entertainment. Time subject to change.
From YouTube: Jason & deMarco, 'Your Love'