In major religions, hell may contain demons who torment; thorny, bitter fruit; and, of course, flames. Plenty of GLBT folks may think of Colorado Springs, Colo. — home to the homophobic Focus on the Family organization, the stealthily conservative Air Force Academy, and nicknamed "the Evangelical Vatican" — as the earthly equivalent.
Steven Cosson, who with Jim Lewis wrote This Beautiful City, is not among them.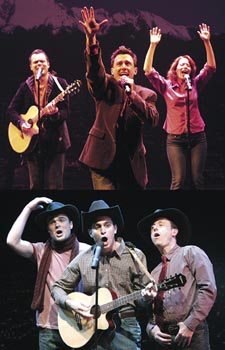 'This Beautiful' City at Studio Theatre
"I have great affection for the place," says Cosson, who spent 10 weeks in Colorado Springs conducting interviews of residents for what would become this new play, now concluding its world-premiere run at The Studio Theatre. Cosson says that like many gay people, he first became familiar with the town indirectly, during Colorado's early 1990s Amendment 2 campaign to prevent any jurisdiction from passing any law to protect gay residents.
As Cosson and other members of his production company, along with several local students at Colorado College, conducted their interviews, the controversy involving Ted Haggard erupted. National headlines were filled with the tawdry details of the then head of the National Association of Evangelicals' involvement in drugs and "sexual immorality" involving a male prostitute.
While Cosson says his company, The Civilians, was compelled to incorporate Haggard story into the play, this is not a story of the sensational, but of a community.
"For a gay and lesbian audience to have a sense of what's being done on a political level by residents of Colorado Springs, it's inspiring," says Cosson. "A lot of people think 'Focus on the Family' or 'New Life Church,' a town where everyone's an evangelical Christian. One of our characters is an outspoken, transgender activist who lives in Colorado Springs. She and many transgender friends are very much a presence in that community.
"There are a lot of efforts there to engage in public life," he continues. "It makes us recognize how much we take for granted, how disengaged we may be in our public lives."
This Beautiful City plays in Studio's Metheny Theatre, 1501 14th St., NW, though Sunday, June 29. Tickets are $39-$42. Call 202-332-3300 or visit www.studiotheatre.org.