Thirty-one years ago, Cyndi Lauper damaged her vocal cords. Doctors told her she would never sing again.
As if they could keep the feisty, irrepressible Lauper down. The girl hadn't even had her fun yet, much less shown her true colors in support of the discouraged.
"You know, every dog has its day," Lauper says, offering a characteristically spunky, succinct assessment of the career that they said wouldn't happen. Thanks to her old vocal coach, her day ain't done yet.
Cyndi Lauper
Lauper, who will turn 55 later this month, is still singing strong. Her charming, raggedy voice is still intact, now plying its four-octave range, especially the lower register, more than when she first came to fame 25 years ago, giving us many pop classics, from "Girls Just Wanna Have Fun" to "She Bop" to "All Through The Night." The music on her brand new album is as energetic as her earliest sets.
More than that, Lauper continues her role as the brightest, loudest color in pop music, at least when it comes to gay rights. The longtime, unflagging advocate for being yourself, gay or straight, says, "It's all just about civil rights for me. I think it's insane that people are denied simple civil rights in this day and age because of their sexuality."
Lauper is doing what she can to help change that through the True Colors Tour, named after one of her biggest hits and one of pop music's most indelible songs. It's now in its second year. "Yeah, how about that?" Lauper said by phone from Boston, where the tour kicked off again last weekend after a grueling final week of preparations.
The True Colors Tour that Lauper produces not only showcases gay and gay-affirming musicians and entertainers, it also serves as both a fundraising and advocacy vehicle for gay rights in general. The Human Rights Campaign (HRC), Parents, Families, Friends of Lesbians and Gays (PFLAG), and CenterLink, the organization for the nation's LGBT community centers, are this year's nonprofit partners. They'll directly benefit from the newly created True Colors Fund of the Stonewall Community Foundation. Once again, $1 of every ticket sold will be donated to HRC.
"There are a lot of young people who need help, who feel alone and who are being discriminated against," Lauper says, aiming for her tour and especially funds raised for CenterLink to help a budding gay generation.
Last year's tour focused on pushing the Senate to pass federal anti-hate crime legislation called the Matthew Shepard Act. The tour helped increase funds and visibility for the issue. The Senate passed the bill, though the president vowed to veto it, which was enough of a threat to keep it from final legislation and his desk. For obvious reasons, Lauper isn't satisfied. "Hopefully our next president will be supportive," she says.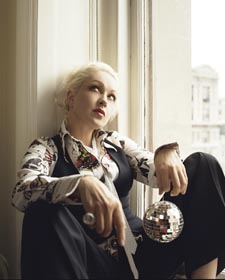 To help make that happen, this year's specific focus is on getting out the vote. HRC will help educate, engage and organize voters in this year's election, and more immediately help ensure that concertgoers are registered and ready to vote.
"We're not trying to tell anyone who to vote for," says Lauper, explaining the nonpartisan nature of the effort. "I think if you want to live in an inclusive society, you need to include yourself and make your voice heard."
This year's stop in the Washington area is at the more intimate and historic DAR Constitution Hall. It will feature a more intimate lineup too: In addition to Lauper, it includes the B-52s, Tegan & Sara, Regina Spektor and host Carson Kressley. Lauper heaps praise on the B-52s and the band's "really, really great" new album Funplex. "But," Lauper adds, "I'm most excited about really shining a light on more up-and-coming acts, like Tegan & Sara. Tegan and Sara are just amazing."
Advertisement

| | | |
| --- | --- | --- |
| Cyndi Lauper: Bring Ya to the Brink | Essential Cyndi Lauper | Duran Duran: Red Carpet Massacre |
Lauper, who still has the thick accent she picked up during her childhood in Queens, just released her 12th album, Bring Ya To The Brink. After two ruminative covers projects – 2003's At Last and 2005's The Body Acoustic – and a decade away from the clubs, Lauper says, "I just wanted to get back to dance." The inspiration, surprisingly enough, came from her 2006 Broadway debut. "I ended up becoming good friends with folks from The Threepenny Opera, like Alan Cumming, and we would go out dancing all the time," she says, about her fellow castmates in the Tony-nominated revival.
For the set, Lauper worked with a bevy of leading lights in dance music, from Basement Jaxx to Axwell to the Scumfrog. But her most frequent collaborator was D.C's own Rich Morel. She's even been known to get her groove on at the New York Blowoff, Morel's popular DJ party with Bob Mould.
"Rich is just great," Lauper says. "He truly understood the heart and soul of the project. I wanted to work with producers who were also artists. He's a keyboardist plus he's done all this great production work with a bit of rock to it. It just really worked out well." Lauper also tapped Morel to play keyboards when she performed at last year's White Party in Miami.
Her album's Kylie Minogue-esque first single was produced by Swedish producer Peer Astrom, who's worked with Madonna and Britney Spears. Lauper just wrapped a video for "Into the Nightlife," shot at New York's gay clubbing institution Splash. "A whole group of my friends came and we danced. It was fun," Lauper says.
"The album can be experienced as a dance album that you can move to and enjoy," Lauper explains. "But if you want more than that, there's a lot to discover inside the lyrics. There are times when these songs get pretty deep."
And just as often, the lyrics are affirming, even in the face of deep adversity. As Lauper sings on her current club hit "Same Ol' Story," over Morel's sweet, swinging melody, "Still some glory in my eyes, much to everyone's surprise — after everything you put me through."
Her message is as clear as it ever was: It may be hard to take courage, but don't be afraid to let them show.
Cyndi Lauper headlines the True Colors Tour this Saturday, June 7 at DAR Constitution Hall, 18 & D Streets NW. Showtime 6:30 p.m. Tickets start at $75. For more info, see http://www.truecolorstour.com.
From YouTube: Cyndi Lauper, 'Same Ol' Story (Remix)'