The B-52s have taken few breaks from performing since emerging out of Athens, Ga., three decades ago. But now, it's fair to say, they've been recharged.
They'll play a starring role on the second True Colors Tour this Saturday at DAR Constitution Hall, performing hits including "Rock Lobster" and "Love Shack." Even better, the band will play soon-to-be hits from Funplex, the new album and first in 16 years. With help from former New Order producer Steve Osborne, the band's guitarist and lead songwriter, Keith Strickland, merged rock and dance here in a way that reflects both their past and pop music's present.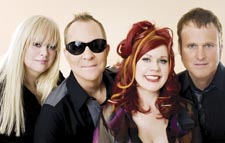 The B-52s: Wilson, Schneider, Pierson and Strickland
"Keep This Party Going" is one of many highlights from the album, a slightly political rocker about the need to party in a crazy world. "Take this party to the White House lawn," Cindy Wilson and Kate Pierson harmonize on the track. They'll come awfully close to doing just that on Saturday.
METRO WEEKLY: After 16 years between B-52s studio albums, what was the inspiration to get together to write and record Funplex?
KEITH STRICKLAND: Well, we've been performing together regularly for the last 10 years. It evolved out of that. We felt that if we were going to continue performing live, it would be great to have new songs. Our fans were hinting that they would love new songs, and that was all very great. Our fans have been very supportive and patient with us. [Laughs.] It was a very simple thing, just wanting to have new songs.
MW: Did you work any of the songs that appear on Funplex into your live repertoire over the past few years?
STRICKLAND: No. We started writing in 2003. It was a long writing process because we continued performing, but we weren't performing the new songs. We did, however, begin performing them about a year ago. We finished the album last spring — actually, a year ago. We had a tour in Europe and we started playing about six of the new songs. We've been performing them for a while now.
MW: How would you say the experience was different than when you recorded the first B-52s album, which was released almost 30 years ago?
STRICKLAND: We were a different band in the beginning. There was [the late] Ricky [Wilson], who of course was with us at the time and he was on guitar. We were a very self-contained group; it was just the five of us. We had a very different sound. I was the drummer in those days, Ricky was the guitarist and Kate played keyboards and some of the bass lines on keyboards, as well.
Now, we're a very different group when we perform. We have a drummer and additional musicians that come out with us. In terms of recording, the big difference is that I was writing and recording the music here at my home. I had the luxury of sitting in my home and taking my time writing. I wrote the music here and then I would fly to Atlanta and meet Fred and Kate and Cindy and they would write their music in the studio where we would meet. Their vocals, a lot of the original takes, are on the final recording, as well. We recorded in three or four different studios. That was different in the sense that technology today allows you to have more flexibility. As opposed to the old days when we would fly to the Bahamas to record at Compass Point Studios, which was really great, a great experience. But it's really different now.
MW: During the time between recordings and the concert, did you all maintain regular contact?
STRICKLAND: There are always business decisions to be made. We have conference calls and whatnot. I would say that since we started writing in 2003, we would try to get a song written…one a month or something like that. [Laughs.] There were other delays, a period there where we couldn't write because we had some legal delays, if you will. But yeah, we kept in contact. When we were performing, we were out two or three times a month. We saw each other quite frequently.
MW: Songs such as "Hot Corner," "Love In the Year 3000" and "Funplex" sound like they strike a balance between the various periods of the band. Was it important to maintain a sense of the band's history on this disc?
STRICKLAND: It wasn't so much a conscious effort to do that. We just had the sound. Particularly with Fred, Kate and Cindy [and] the way they write their lyrics. They do it through a jamming process where they improvise over the music that I have that I bring in fully arranged…and they sing over that. Their style of writing is very distinctive. As soon as you hear them, in my opinion, you know who this is. [Laughs.] You know it's the B-52s. That's something that will always be there.
I'm involved in the writing process in the sense that I'm there to change the music or arrangement around as they begin to work their part into the music. And we also do the final arrangement together. When we're together doing that, it's like instant recall. We're tied to this timeless, eternal space, if you will, where everything flows. It's a very similar thing, even though that was 30 years ago.
Advertisement

| | | |
| --- | --- | --- |
| REM: Accelerate | B-52's: Funplex | B-52's: Anthology |
MW: There's also a playful, but overt, suggestiveness in songs such as "Pump," "Ultraviolet" and "Deviant Ingredient."
STRICKLAND: They write their lyrics and melodies through a jamming process and they improvise. So it's what comes off the top of their heads or from deeper within, I guess you could say. [Laughs.] They were as surprised as I was that every song was sexually suggestive. I think that part of it is that it's very tongue-in-cheek, but it's also very rock and roll. Rock and roll has always been sexual, and we were just playing around with that.
MW: Earlier you mentioned that the band had been looking for a record label, resulting in Funplex being released on Astralwerks. With strong electro dance club tracks such as "Juliet of the Spirits" and "Eyes Wide Open," do you think the being on Astralwerks will mean that these kinds of songs will get the attention that they deserve?
STRICKLAND: Yes, I think so, in the sense that Astralwerks totally got what we were doing. We went to several labels, and they just didn't get it. And you know we are outsiders in the sense of the mainstream. We have had mainstream success, but we've always done our own thing. We've always had this outsider appeal. Really, the music industry, because things are so topsy-turvy and everything's being turned on its head, the labels are getting conservative and they only want what they feel is going to sell big numbers. I don't think what we're doing is necessarily mainstream, but it could have a broad appeal if given a chance.
Astralwerks heard it and they loved it! We did a show in Brooklyn and everybody from [Astralwerks] came to see us, which really impressed us. They've been so enthusiastic and really supportive and into it. I love being on Astralwerks.
This album is a bit more electronic. I've been listening to a lot of electronic music over the years. And I was still listening to rock and roll and I still love vintage rock and roll. And I also love electronic dance music. So I thought, what am I going to do that's going to interest me enough? And I thought it would be fun to put these two elements together. That was the inspiration, the jumping off point for me.
MW: The band was on tour earlier this year and hits the road again as part of the True Colors Tour. What are you most looking forward to about True Colors?
STRICKLAND: I'm really curious to see what kind of audience comes. It should be very interesting. It's kind of like an old school revue.
MW: Like a variety show.
STRICKLAND: Yeah, like a variety show. There are a lot of different acts and it changes from town to town, so it should be quite interesting. It'll be fun to hang out and meet other artists. That's always exciting for us. I really don't know what to expect. I'm sure it will be great fun and the audience will be a lot of fun and into it.
From YouTube: B-52s, 'Funplex'
From YouTube: B-52s, 'Song for a Future Generation'