On the eve of the Capital Pride weekend Wayne M. Nesbitt headed out for festive Friday night with friends at the D.C. Eagle. The venue on New York Avenue NW has been as much a part of his life as his friends, Nesbitt having won the Mr. D.C. Eagle 1998 title — breaking new ground as the first black man to wear that particular sash.
Despite his demanding job as a video director/producer at the Federal Judiciary Center, he made time for the D.C. Eagle, whether serving as an auctioneer for the annual Scarlett's Bake Sale charity event, or raising money — about $50,000 over the years — for the Eagle Wings charity he helped found, or serving as emcee as other leathermen won the D.C. Eagle title. There's no doubting that the leather/Levi bar was something of a second home for Nesbitt.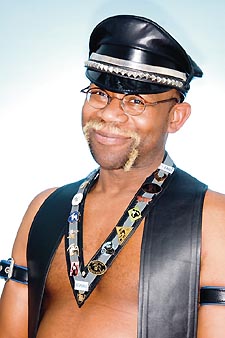 Wayne Nesbitt
Upstairs, as the clock turned from Friday, June 13, to the wee hours of Saturday morning, Nesbitt, 45, enjoyed a drink and camaraderie until something entirely unexpected and dreadful happened.
"There was a group of us, standing around, just talking to him about his day," says Steve Kenney, a former president of the Centaur MC, which had adopted Nesbitt in a way, naming him a "Centaur Groupie." Actually joining a club wasn't Nesbitt's style. Call him in a pinch for favors too numerous to count, but grant him his independent streak.
"We were laughing, carrying on. Wayne had a drink in his hand. I turned to the left to talk to someone, and out of the corner of my eye I saw Wayne turn away. I thought he was going to the bathroom or to talk to someone, and all of a sudden he just hit the floor."
Despite the efforts of patron who was a nurse, or the EMTs who responded to the 911 call, or whatever actions were given at Washington Hospital Center, Nesbitt never regained consciousness.
"The technicians, they told us when they put him in the ambulance that it didn't look good," Kenney remembers. "It was all so quick. It was pretty surreal."
Leroy Nesbitt, Wayne's older brother, says he's been told by hospital staff that Wayne likely died of cardiac arrest, adding that has yet to be confirmed. Regardless of the exact cause, Wayne Nesbitt's death has left the community reeling.
"I was just getting there as they were wheeling him out," says Herb Kaylor, president of the Highwaymen TNT, of arriving at the Eagle that night. The Highwaymen, like the Centaurs, were also close to Nesbitt, having lovingly named Nesbitt and his late partner, Glenn Carpenter, as 1999 "Honorary Trash of the Year."
"I think it's going to have a huge impact, at least on the leather community," Kaylor says of Nesbitt's death. "But not just in D.C. — Wayne was known across the country."
By Saturday afternoon another of Nesbitt's friends, Joe Morris, was trying to alert people around the country to Nesbitt's death when he got word that Nesbitt's family had gone to his Capitol Hill home. Just a few blocks away, Morris says he went over to Nesbitt's home.
"It was important that someone convey the message that there are a whole lot of people in this city and around the country who loved your son," says Morris, having met Nesbitt's mother in 2006 at Carpenter's funeral. "I told her, 'You did something very right. You have everything to be proud of."'
Novella Nesbitt says that she has been mightily consoled by the outpouring of support from her son's friends, saying, "There are no words. I'm so grateful."
With Leroy Nesbitt and his wife, Debony, and two children, Nina and Malayna, nearby — all of Wayne's immediate next of kin — as well as Wayne's family of friends stepping in, Novella Nesbitt has some measure of comfort. She is also comforted, she says, by her memories of Wayne, both recent and long past, as well as a shared sort of optimism.
"He had told me there wasn't a day that went by that he didn't think of Glenn," she says. "Wayne and I accept death in the same way. We miss our loved ones, we have that feeling of loneliness, but we have to live for today. I do not question the work of God, and I think Wayne had that kind of faith."
As Nesbitt said himself in a January 2007 Metro Weekly interview as he readied to serve as a judge of the Mr. Mid Atlantic Leather contest not long after Carpenter, his partner of 15 years, had died, "I know what it's like to lose people who are intensely close to you. But every grieving process is different, so you just have to let it go. But it's not good to stay isolated too long, at least not for me, anyway."
Nesbitt's mother and brother say they're trying to maintain a mood that celebrates Wayne Nesbitt's life — his brother remembering with a slight laugh how their father had nicknamed Wayne "peanut head," "For his love of Peanuts and his head" — the leather community and beyond may find solace in the circumstances.
"If it were me, I can't think of any better way to go: in a place he liked, surrounded by friends in the community he loved so much," offers Kaylor. "What better way to go?"
Kenney adds that while death separated Carpenter and Nesbitt in life, there's reason to at least hope for a happy ending.
"There are certain people I've always considered role models, who could balance a relationship and still have fun. Wayne and Glenn exemplified that," says Kenney. "Even if there's no life after death, it's important to think there is. And if there is, then they're together again."
Or, as Danny Linden of the Centaurs points out, it may actually be those who never got the chance to know Nesbitt who deserve the sympathy.
"When he was having a good time, he was 100 percent there. He could jump up and down and laugh. No one could do that like him. If you didn't know Wayne Nesbitt, then you missed a hell of a good time."
The Nesbitt family invites all to remember Wayne Nesbitt at a wake at 10 a.m., followed by a funeral service at 11 a.m., Monday, June 23, at Metropolitan AME Church, 1518 M St. NW.
Information for donating to Eagle Wings in Nesbitt's honor should be available soon at www.metroweekly.com, along with news of other memorial/celebration gatherings.
A Wayne Nesbitt memorial has been posted online at www.leaterweb.com/wndcpass.htm. Nesbitt's January 2007 cover interview is available online at www.metroweekly.com/feature/?ak=2496.