You've likely never put the words "canine" and "cuisine" together in the same sentence.
Dogs are finicky eaters, of course. One minute you're trying to keep him from scarfing down that day-old-dead squirrel he found under a bush in the park, while the next he's turning up his nose at a bowl of expensive (and supposedly irresistible) chow.
But that doesn't mean you can't tempt your dog's palate with some old-fashioned home cooking.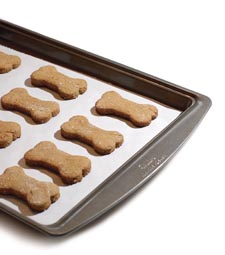 Canine cookbooks abound — from The Ultimate Dog Treat Cookbook to the fashionably foodie The Organic Dog Biscuit Cookbook — so if you have a modicum of comfort in the kitchen, it's not hard to turn your culinary skills into a doggie treat.
While I've tried my share of homemade treats for my dogs, it's my sister who has found what she calls the best ever, super-duper dog biscuit recipe — a biscuit so good she has yet to find a dog that turns up its snout in disdain.
Instead, every dog keeps trying to get into the jar for more.
The recipe, adapted from the unfortunately out-of-print Dog Bites, requires no special equipment or ingredients.
Super-Duper Dog Biscuits
3 cups whole wheat flour
1/2 cup rolled oats
2 tsp baking powder
1 1/2 cups milk
1 1/4 peanut butter
2 tablespoon molasses
Preheat oven to 350 degrees.
Combine dry ingredients in a large bowl.
Combine milk, peanut butter and molasses in a blender or food processor, and process until smooth.
Add wet ingredients to the dry and knead together into a firm dough. If you have a stand mixer, mix on low to medium speed for about one minute.
Form dough into a ball and roll out on lightly floured surface to quarter-inch thickness. Cut into squares or use cookie cutters to create dog bone shapes. Place in baking tray lined with parchment paper.
Bake 20 minutes, until lightly browned. Turn off the heat and leave biscuits in the oven until cool — this will keep the biscuits dry so you can store them without molding.
If you don't feel up to being a Top Chef for Rover, you can pick up homemade treats at pet bakeries like Doggie Style (1825 18th St. NW; 202-667-0595; www.doggiestylebakery.com), which boasts an assortment of homemade dog goodies, including biscuits that can be personalized with your pet's name or a special message, like "Happy Birthday. Now Sit."
"We use all natural, human grade ingredients," says owner Krista Heinz. "The treats are whole-wheat based. We generally use peanut butter for the flavor. We can do any shape anybody wants." The most popular include fire hydrants and martini glasses, or as Heinz calls them, "muttini glasses."
Doggie Style's treats can be ordered at the store, by phone on or online, and can be picked up at the store or delivered to your home via mail.
The 8-year-old Arlington-based Dogma Gourmet Bakery (2445 North Harrison St.; 703-237-5070; www.dogmabakery.net) offers a huge assortment of treats, all baked on the premises, including a "Bis-Cottie," prepared from mashed bananas, white flour and carob; squirrels concocted from whole wheat flour, honey and molasses; and mailmen, whose primary flavors include honey, cinnamon and nutmeg. One best-seller — Pup-Kin Cookies — are made from a pumpkin base, which owner Marty Hogan says is good for a dog's digestion, and a aromatic lacing of cinnamon and vanilla.
Hogan also notes — with an air of joviality — that pet owners sometimes buy the treats, which are prepared with all-natural ingredients, for themselves as well.
Dogma's treats are baked fresh daily and have no sugar, salt or preservatives. In case your pooch can't make up its mind, assortment bags are available.