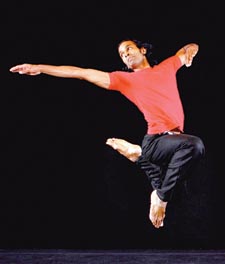 Choreographer Daniel Phoenix Singh wanted to pay respect to what he's seen at Chaos, Zanzibar and Town. "Just take some ideas you see in a club, all the little stories that happen on a club floor, and create a piece with that," explains Singh. "Someone who's always on the dance floor, the wallflower, the two friends you think should always get together but never do."
Singh and his Dakshina Dance Company will stage his mixed gay/straight modern dance piece as part of a Capital Fringe Festival dance party this Saturday night at the 9:30 Club. Singh's choreography, set to songs from the likes of U2 and Fiona Apple, will be followed by an improvised collaboration with Washington Improv Theater. Both pieces will be performed amongst the crowd, not on an actual stage, and additional performances are expected from audience members throughout the evening.
"I hope people come out and have fun," Singh says. "Have a couple of drinks and then dance with us."
Songs of My Life/Going Against the Flow takes place this Saturday, July 26, at 8 p.m. at the 9:30 Club, 815 V St. NW. Tickets are $30. Visit www.dakshina.org.