As Master Yoda might say, "Its energy surrounds us, binds us." What is this mysterious force? Why it's the District of Columbia, of course. It's the street where you live, but it could also be part of your home décor.
Color My World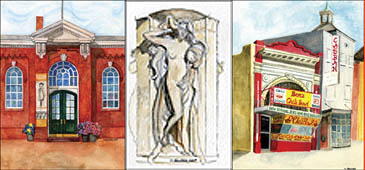 Mary Belcher is churning out endless images of the nation's capital in watercolors, from Ben's Chili Bowl to tiny French Street NW. From her Sunday spot at Eastern Market, Belcher sells cards, paintings and prints. Don't like what you see? Worry not — she accepts commissions. Matted prints range from $15 to $40. Standard-size commissions start at $185 for a 5-by-7-inch painting. For more information, visit her online at www.marybelcher.com, or call 202-462-9069.
The D.C. Dish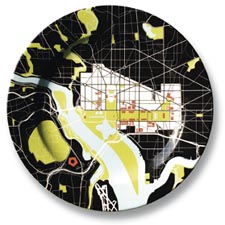 As part of a theme, "Capital(ism) and Culture," the notNeutral design firm in Los Angeles has created four city plates, including this D.C. darling. The dishwasher-safe, porcelain piece is 12 inches in diameter, and is bound to have the any aesthete eating out of your hand. Available locally for $49.99 at Home Rule, 1807 14th St. NW, 202-797-5544.
Table That Motion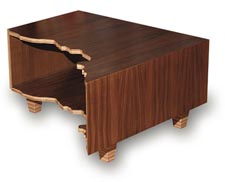 If it was still a plain ol' square, the D of C would hardly be as compelling. Throw in a Potomac border, and now you've got some woodwork worth talking about. Just be careful with that table saw! Aptly named local furniture maker Justin Couch offers his capital coffee table through Homebody, 715-A Eighth St. SE, 202-544-8445; or through his site, www.justincouchdesign.com, for $600.