It all started in the clubs for designer Andrew Christian. "I was involved in the underground club scene when I was a teenager," says Christian, now 30. "My big goal every week was to design a brand-new outfit for myself."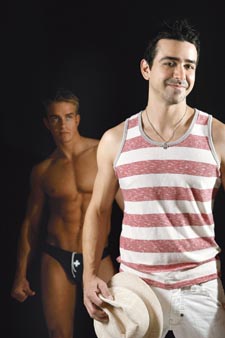 Andrew Christian (front)
Soon enough, Christian was busy making clothes for his friends and then for sale at local boutiques in Los Angeles. He started his own eponymous line, using a cross logo with arms of equal distance, some 11 years ago, with a focus on clothes geared for the clubs — though his is not stereotypically wild or skin-tight clubwear. "I would say my style is sort-of minimalist but with attention to detail, stuff that's trendy but not too trendy," he says, adding, "I like my stuff form-fitting but not tight. I hate it when you see somebody and they're like a sausage."
These days he's best known for his swimwear and underwear lines, and they'll be the focus of his fashion show next Friday, Aug. 1, at Cobalt. He's just launched a new line of "anti-bacterial, eco-friendly" underwear made out of "super-soft" bamboo ("People really want to be eco-friendly but they still want to be stylish and comfortable.") He's also designed a boxer brief as campaign-fundraising memorabilia, with an image of presidential candidate Barack Obama on the front right leg and "08" stamped on the butt. "I just wanted to do my part, in my own way, to help the Obama campaign," Christian says. "I think he really symbolizes hope for the young generation out there."
Christian will bring his models with him Aug. 1, first for a meet and greet at Universal Gear, D.C.'s outlet for his fashions, then finishing at Cobalt's latest Flight 1639 event. "I'll emcee the fashion show [at Cobalt]," he says, "and then I'll go around with the go-go boys and hand out giveaways, and sign headshots and whatnot."
Giveaways include necklaces and other products in his line. The first 100 people in the door will get a copy of DJ Kimberly S's appealing Music to Wear compilation, which is only available as part of the promotion.
"You never know what's going to happen during these events," says Christian. "Sometimes the models get a little crazy…. So it should be exciting."
Andrew Christian appears next Friday, Aug. 1, at Universal Gear, 1529 14th St. NW from 5 p.m. to 7 p.m., and at Cobalt, 1639 R St. NW, for the Music to Wear Tour with DJ Kimberly S. Doors open 10 p.m. Cover is $5. For a free-admission "boarding pass," visit www.flight1639.com.