In its native Britain, Jerry Springer: The Opera, was a hit. With many, however, it was also a miss. When the BBC aired a televised version in 2005, the network fielded more than 45,000 complaints.
Bobby Smith, the Helen Hayes Award-nominated local who plays Satan in the Studio Theatre's production of the show, says the mixed reaction is not surprising. But on a personal level, he adds that the chance to spew Satan's vitriol is somehow cleansing.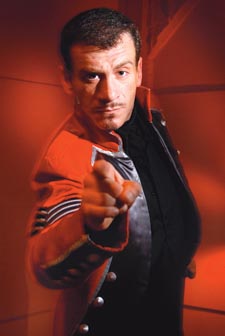 Bobby Smith
"It's a great opportunity to say things that you've always wanted to say. Not necessarily in the realm of 'fuck you' to Jesus — that's not what I want to say — but in a cleansing way. I think we use the word 'fuck' 96 times. We use 'cunt' nine times. There is a point to it, but you have to be open-minded to get it.
"It's not for the faint of heart," he warns, adding with a chuckle, "I don't think it's being advertised as a family show."
As Satan, Smith greets Springer in Hell, along with an odd assortment of other characters that have left the Catholic League having kittens. Beyond the provocative setup, Smith insists there is quality to this production that should not be ignored.
"It's one of the more interesting shows I've done. It's really highbrow meets lowbrow talk show, providing a lot of room for theatricality and camp. And we try to take it very seriously."
The highbrow comes from the musical themes, which pull from Handel, Puccini and others. The book is "very lowbrow — it's what you would hear on The Jerry Springer Show. But the score is very regal. It's an incredibly different evening.
"It is very much an opera," he continues, "presented in a musical-theater style. We come to expect a certain format, especially in musical theater, and this is an incredible way to break out of that. I encourage people to see it. They will have an entertaining evening, and, indeed, there is a message."
Jerry Springer: The Opera runs through Sunday, Aug. 17, in The Studio Theatre's Metheny Theatre, 1501 14th St. NW. Tickets are $39. Call 202-332-3300 or visit www.studiotheatre.org.