"That was the first time I had actually seen it," Janis Ian says about NBC's rebroadcast of her 1975 performance on Saturday Night Live. NBC recently re-aired the series' very first episode after the death of that night's host, George Carlin.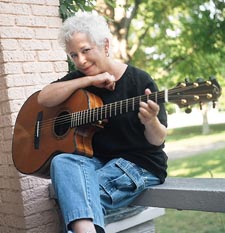 Janis Ian
"It's weird for me to look at myself when I was so young," says the 57-year-old folk icon who was 24 at the time. Ian came to fame in the 1960s when she was only a teenager.
Of her reputation as a songwriter covering weighty subject matter, from adolescent cruelty to interracial relationships to incest, Ian says, "I certainly never set out to write only that [type of material]. It just seems to be where my talent is. I would love to be able to write fluffy songs that become huge hits."
SNL veteran Tina Fey named the punky girl in her 2004 film Mean Girls after Ian. "I thought it was very flattering," Ian says. "How many people get the chance to have a character in a movie named after them while they're still alive?"
Ian, who now lives in Nashville with her partner of 19 years, wasn't openly gay until the early 1990s. "I honestly didn't think it was relevant," she says. She eventually realized the importance of coming out after learning about the high rate of suicide among gay teenagers and the lack of gay role models. Ian has since been a regular contributor to The Advocate, writing often-humorous observations about her life and times.
"Right now I'm just as happy staying home," says Ian, who soon plans to scale back the grueling touring schedule she's kept up for years. She's not sure she'll record another studio album: "I just don't know if that's the best use of my time these days."
But Ian has just released her first greatest-hits set, which includes several new songs. The Best of Janis Ian accompanies her new autobiography, Society's Child, named after her very first hit in 1967. Ian says she felt it wouldn't be right if she didn't share everything in the book.
"It's actually quite scary. There are people now in the audience," says Ian, "who have read my book and know a lot more about me than I would ever care to tell anyone."
Janis Ian performs next Thursday, Aug. 7, at The Birchmere, 3701 Mt. Vernon Ave., in Alexandria. Showtime 7:30 p.m. Tickets are $35. Call 202-397-7328 or visit www.birchmere.com.
From YouTube: