When Matt Foreman announced his resignation in January from the National Gay and Lesbian Task Force, an organization that promotes civil rights for GLBT people by building grassroots political power through advocacy and other measures, Rea Carey, then deputy executive director, said she would not be "throwing her hat in the ring" for consideration.
"As a person who loves the Task Force," says Carey, "[I was excited to see] who would be the next executive director. Who would be a leader? Who would fulfill the vision of the Task Force?"
That was nearly six months ago.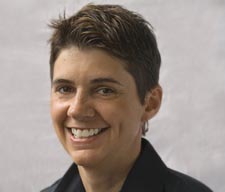 Rea Carey
(Photo by Courtesy of the Task Force)
"When the board re-approached me recently, asking me if I would reconsider serving as the executive director, I was not prepared for that conversation," she says, "because I'd been moving along as the acting executive director, and they'd been moving along in their search."
After taking into consideration nearly two decades of GLBT and HIV/AIDS advocacy experience, and thinking about the "talented pool of people" she would be leading at the Task Force, Carey decided it was time to hit the ground running as executive director.
"Ultimately the feeling I was left with was 'Let's get this show on the road,"' she says. "I've been preparing the Task Force for its next executive director, and little did I know, it turned out to be me. I also know that we're in a good place for me to step into this role and I'm excited to serve."
"Excitement" is the word the 41-year-old uses to describe her feelings upon first discovering the Task Force, when she was a high school student in Denver. The Task Force was mentioned in a gay newspaper and it caught the attention of the 16-year-old who had recently come out to a supportive family.
"I can't remember what the article [was about], I just remember the sense of, 'Wow, there is an organization that is reflecting how I feel about the world."'
While that sense of excitement led her to GLBT advocacy, a sense of urgency turned her attention to HIV/AIDS. During the epidemic's dawn, Carey found purpose with the AIDS Coalition To Unleash Power (ACT-UP) and other direct-action groups.
"My friends were getting infected and I realized I was so damn lucky," Carey says. "Lesbians were not being infected at the rates that gay men or 'men who have sex with men' were and I felt, 'I can do something about this.'
"In my early years in Washington," she continues, "I worked on a project that did HIV prevention and education for runaway and homeless youth shelters around the country. And I will tell you, they did not want to talk about gay young people or same-sex behaviors that would put young people at risk. It was a challenge.
"There was also a time when talking about LGBT youth was not welcomed within the LGBT movement. And it was in fact why I, and a group of other people, started what became [the National Youth Advocacy Coalition]. Thank goodness times have changed."
Even after living for 20 years in Washington, Carey, who lives in Northwest with her longtime partner and their daughter, remains true to her bucolic Colorado roots.
"In Colorado, when you ask someone what they do, they do not tell you they're a policy analyst. They tell you they're a marathoner, a wind surfer, a skier," she says. "And so I love doing things outside, experiencing everything Washington has to offer."
Carey also appreciates a different sort of "outside" perspective that international cities such as Washington offer in abundance.
"I have a lot of friends from all over the world, and I enjoy talking about all sorts of things with them, because I feel like it always helps to have other people's perspectives and to hear how others are seeing things."
Carey uses that same logic to explain her affinity for Archaeology magazine.
"I love reading about history and other societies…because I think there's so much that we can learn. I like thinking, 'How does this way of looking at the world apply to the LGBT movement? Is there something we can learn from this?"'
For more information about the National Gay and Lesbian Task Force, visit www.thetaskforce.org or call 202-393-5177.