"He's got the world on his back and watch him take it — on all fours," Jay Brannan sings on his song "On All Fours." Whether you call that doggy style or just plain perseverance, there's no denying it's a heavy burden. In Brannan's case, the burden involves constant doubts about his approach to songwriting and his use of language, not to mention nagging thoughts about his destiny and legacy. In other words, Brannan, who's in his mid 20s, is the quintessential troubled artist. He expresses constant self-doubt as well as anguish over life and love and what he's been taught to believe.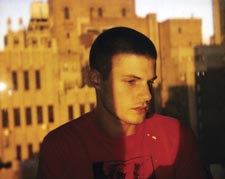 Jay Brannan
Brannan gained attention by starring in John Cameron Mitchell's bold independent film, Shortbus. He was the third man in an explicit three-way encounter with a real-life gay couple. For someone who gained attention by exposing himself on film, and who makes music nearly as naked in every sense, it's a bit hard to understand where he stands and what he's up to. It doesn't help that he way overplays shock at people taking an interest in him. "I can't imagine why you'd want to see/hear/know more," he writes on his barebones Web site. It makes you wonder where the real Brannan ends and the actor Brannan begins.
Ultimately, however, who cares? The complexity only works to make his music all the more compelling. Whether the occasional actor is just playing a part here, his debut album Goddamned, set for wide release through his own Great Depression Records this Tuesday, July 15, is as bold as any other you're likely to encounter.
Brannan ponders his fate on "American Idol," and repeatedly demands that the TV show of the same name "get the hell off my TV." "I can't write songs as well as you," he sings, without identifying who he means. He then adds, "I can't play guitar as well as I want to." He's hungry, he's bored, he may even be suicidal: Brannan expresses common sentiments in both ordinary and extraordinary ways, and occasionally surprises you with how he tells his stories and where exactly they go.
The first single "Housewife," for example, is about wanting to get married to another man. "I want to be Adam's wife, what's so wrong with that?" Brannan asks. "I want to have his baby." It's amusing, the way Brannan shocks you by using technically incorrect gender-specific terms expressing otherwise mundane, everyday sentiments about being committed to another person. And then, there's the surprise ending: There's no Adam to speak of yet. "Can't wait till he's in my life," Brannan says, "Cuz we haven't met yet."
Brannan's lyrics are front and center of every song, and many of the melodies are so slight you have to force yourself to notice them. These are not the type of songs you'll hum later. You'll actually either sing these back word for word, or not at all. It's similar to how you don't remember what clothing, however little of it, Brannan wears; you instead remember the contours of his body, or at least his face. His music is nearly as naked as that: sparse, stripped down to acoustic guitar, occasional bass and occasional piano. And always his voice, a Paul Simon-esque tenor, though even more sensitive and certainly gayer. Brannan is surely the most sensitive of gay singer-songwriters you've ever heard. On paper, you may think of Rufus Wainwright, but Brannan is much more in the lesbian folk tradition of the Indigo Girls or Tracy Chapman, along with a bit of a punker's attitude, and a country singer's energy.
"At First Sight," for example, features dazzling shifting chords and tempos. It's a jazz-tinged country tune one minute, a forlorn torch song the next — and the whole time a song about the contradictions love and lust can produce. "Never believed in love at first sight, but now I think I might," Brannan sings. But actually, if it ever came to fruition, his belief was fleeting. The song, after all, is dedicated to a "heartless bastard," someone he obviously fell for. On the Indigo Girls-esque "Half-Boyfriend," Brannan speaks of another man who got under his skin and caused him great, unexpected pleasure, then lingering pain. "You were the pill I never wanted to take, an anti-misanthrope," he sings, noting the kind of prescription he should be taking, but doubtfully still is, considering what happened. "Mine was the heart I never thought you would break," he explains.
Brannan grew up Southern Baptist in rural Texas, and the now-New Yorker's animosity toward religion is plain to see on Goddamned. The title track offers a case for seeing Christianity as modern-day mythology, a simply more advanced version of the Greek myth about Zeus and Athena. But at a more basic level, the song is a striking antiwar plea. "Mary and Mohammed are screaming through the clouds for you to lay your goddamned arms down," Brannan sings, sweetly but seriously. "No one's coming to save you," he repeats several times, and then adds, "Save yourselves, from turning earth into hell."
At least Brannan thinks there's still hope.
From YouTube: