Alan Dinsmore does not want to go back into the closet.
At 65, the retired lobbyist, who lives with his longtime partner in Alexandria, says he's seen it happen to friends who are institutionalized and afraid of being discriminated against.
"I want to see something in place if I or my partner, or people we know, ever get to the stage where we need some help, that I could talk to the Alexandria City Office [of Aging and Adult Services] and … wouldn't have to go back in the closet. This is what happens to a lot of people," he says.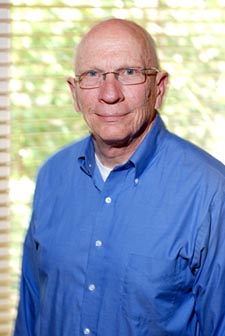 Alan Dinsmore
"Sometimes it's because they have a misapprehension about service providers, simply because somebody my age is used to hiding a lot. And sometimes people have had bad experiences, particularly in institutionalized care."
Annie Shaw, who serves on the board of The Center, D.C.'s GLBT community center, leads the monthly Elder Think Tank discussion group for gay elders.
"A friend of mine just went into a retirement community that is pretty open, but she actually went back into the closet because she isn't quite sure that it feels safe," Shaw says. "That's a lot to think about."
For Dinsmore, Shaw and others, it's also a lot to discuss. The Elder Think Tank, a program organized and driven by volunteers, creates space for that discussion with a simple mission statement: "To provide support and advocacy for the aging GLBT populations of the D.C. metropolitan area and those who provide services to them. The mission is accomplished through identification of needs and concerns, and provision or facilitation of education and training."
The group first met three years ago, now convening the fourth Monday of every month. The meetings usually draw about a dozen participants per session, says Shaw, who talk about a variety of topics including relationships, dating after 50, housing issues and safety and security concerns.
Joseph Izzo is a trained geriatric social worker and volunteer consultant for the Elder Think Tank, who also specializes in mental health at Whitman-Walker Clinic. Acceptance of the GLBT community is more evident now than it was when he came out more than 30 years ago, says Izzo, 66.
"But I'm sure that's not true for elderly gay men and lesbians who have been in the closet for a long time, or who are trying to get into retirement communities," Izzo adds.
"There's still a lot of discrimination in that age group, the 60 and above, even with the training of nurses, doctors and social workers who work with the geriatric population. I think a lot of people just make the assumption that if you're elderly, you're not having sex, even if you're heterosexual. And then if you were to tell them you were gay or lesbian or bisexual, they sort of freak out because that means you're an old person and you're sexual."
Educating health care providers on how to work appropriately with GLBT people is a topic that's frequently discussed at the Elder Think Tank, Izzo says.
"It's even more complicated when you're working with a transgender or transsexual elderly person, because they've got a lot of medical issues that are different, because they're on the hormone replacements and stuff like that through their whole lives, so they have to be more carefully monitored."
When the Think Tank topics turn to social issues, Dinsmore says he is concerned about a friend, a former D.C. socialite housed in a retirement home in southern Virginia. When that happened, he lost his social network.
"In that situation, unless you've got a partner or a very tight group of friends or family, you've really got problems," Dinsmore says.
Izzo says the socialization issue is of great concern for GLBT elders because lack of it often leads to isolation.
"There are only a few organizations that provide a gay-friendly social space for older gay folks, so it's a largely underserved community in terms of social networking."
Part of the solution, says Izzo, is preparing younger GLBT people for the inevitable journey to their senior years, and seeking services from local GLBT organizations.
"Most gay people — even 22-year-olds — at some point are going to get old," Izzo wryly reminds. "They're going to have face that reality at some point. If they just avoid it or deny it, then they're going to be shocked into reality when they hit their 50s, 60s or 70s. What we're trying to do with the Elder Think Tank is to sort of lay the groundwork, at least, for a much older gay-friendly environment in the D.C. metro area.
"Instead of recreating the wheel and creating a special retirement community or nursing home just for GLBT folks, what we're hoping to do is to educate those organizations that already exist on how to provide GLBT-sensitive care."
The Elder Think Tank next meets Monday, July 28, at 6:30 p.m. at The Center, 1111 14th St. NW, Suite 350. For more information, visit www.thedccenter.org/programs_elderthinktank.html.