Since 1999, David Mariner has been part of the fabric of the District — minus a brief stint as a Silver Spring condo owner.
"I decided it was too far away and I moved back," says the 37-year-old. "I love being able to walk to everything."
As married as Mariner may be to the hustle and bustle of downtown, his bonds to activism are tighter. From condom distribution on campus back at Furman University in Greenville, S.C., to co-founding the Capital Area [HIV] Vaccine Effort (CAVE), the Upstate New York native has kept himself engaged in activism, much of it health-related, including a stint with the D.C. Comprehensive AIDS Resource and Education Consortium (CARE). It's no wonder that of the little Welsh he knows, as a first-generation son of Welsh parents, "Iechyd da!" is what first comes to mind. It's a toast: "To your health."
As of April 1, Mariner's professional life took a new turn, as he became the first acting executive director for The Center, the area's GLBT community center, which operates out of office space at 14th and L Streets NW. As The Center evolves, steadily taking on a greater presence in the local community, Mariner would agree that the addition of his position is a good indicator of its progress.
Though seemingly in disbelief that the community could have much interest in him, save for his involvement with The Center, Mariner nonetheless agreed to sit with Metro Weekly and talk about his role with The Center, The Center's role in the community, and even a little about himself. And as anyone who knows Mariner might attest, it's a fine way to spend an hour.
METRO WEEKLY: As acting executive director, what's the scope of your authority?
DAVID MARINER: I do what most executive directors would do. I'm working on the programs of The Center, I'm working on our plans for the future, and I'm working to keep us going strong as an organization.
MW: How much time — how much of your life — goes to The Center?
MARINER: [Laughs.] A lot of my life goes to The Center, especially because it's a community center. It's not a "9 to 5" job. It's evenings and weekends and a "when people need to use the space" kind of situation. I'm on three-quarters time right now, and hope to come on full time in the future.
MW: What was your initial involvement with The Center?
MARINER: I took three months off just to volunteer for The Center and to kind of kick-start things.
MW: You just took off and gave three months' worth of labor to The Center?
MARINER: I know. A lot of people thought that was not a wise move. But I really believe there's something here and that we're going to build an even stronger, even more diverse community center that's going to, over the long term, serve the needs of all the District's GLBT residents. So it was worth it for me to do that.
MW: Would you hope to drop the "acting"? Are you in the running to be permanent executive director?
MARINER: I hope so. At least as long as I've been involved, The Center's never had a full-time staff person. That's a big jump. But I want it to be commensurate with the amount of work The Center's doing. As we grow the programs we're doing, as we grow the number of groups that are meeting here and utilizing the space, I think it will make sense to do that. I see the potential to take The Center to the next level.
MW: What's at the next level?
MARINER: There are a lot of places where there could be a stronger GLBT presence. For example, we saw the Youth Risk Behavior Survey data that showed young gay, lesbian, bisexual and questioning students at 10-times greater risk for having tried crystal meth, six-times greater risk for having tried ecstasy. Also, [they're] not feeling safe going to school, experiencing violence in school, experiencing depression.
Even though we think of D.C. as a place where it's comfortable to be out, and many of us are comfortable and happy being out, it's not that way for everyone. There's still a lot of work for the city to do. That holds for young people, that holds for GLBT seniors, and it holds for many, many people who come to D.C. from other parts of the country.
Many of us aren't from D.C. and we may have come from not-as-welcoming communities. People carry that with them as well. Even though we think that this is a great place to be — and in many ways D.C. is a wonderful place to be out and active — there are still a lot of challenges that the community faces.
MW: What other involvements do you have right now? Your Web site leads me to believe you're doing consultant work.
MARINER: I have done consulting in the past, but I'm not actively taking on any consulting opportunities right now. I continue to blog at Temenos. I continue to be involved in Fight HIV in DC and blog there. My goal is to make this my full-time job and to make The Center a place that needs a full-time director.
MW: One of The Center's goals has been opening some kind of drop-in community area. Is that an immediate goal, or just part of the overall mix of where The Center is heading?
MARINER: This space was never meant to be permanent. It's not as conducive to community meetings as we would like it to be. We haven't made any decisions, but our lease ends in November 2009 here, and we will see. We'll have to go through that discussion as a board and figure out what's next for us.
The other situation is we have more of a reason for a [drop-in] center today than we ever have before, because we have ongoing programs that need space, as well as many great GLBT organizations that we're sharing space with now. Today, the ANC-training folks, they stopped by to see if they could do their event here. Women in Their 20s meets here the second and fourth Friday of every month. We've had a lot of other groups meeting here.
MW: How's the David Bohnett Foundation Cyber Center doing?
MARINER: It's going well. We don't have a lot a lot of people who utilize the cyber center, but for the folks that do use it, I think it makes a big difference.
We have a lot of job seekers, especially. We've also had a few military guys here temporarily who find this is a safer place to access the Internet. There's an expectation because there are so many strong community centers in other cities, people expect that a city this size will have a community center.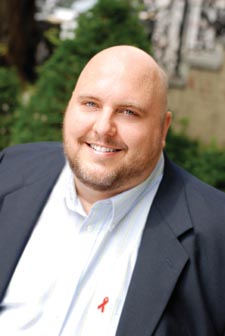 David Mariner
MW: In the traditional sense, what's your theory on why we don't yet?
MARINER: It's hard to say. What we do have are a lot of strong GLBT organizations in D.C. that, if you added them all up, do the work that a lot of community centers in other cities do. Over the years, a lot of organizations have filled those needs for space.
MW: Has Whitman-Walker Clinic's announcement that their closing their administrative offices increased demand for what space The Center does have?
MARINER: Yes. We have a few groups that used to meet over at Whitman-Walker that are meeting here now. And we're happy to have them. People know The Center and they know that we are a resource that's available to them.
MW: There's a continuous thread of activism through your résumé. Does that go as far back as your childhood? Were you an Eagle Scout, by chance?
MARINER: [Laughs.] I was an Eagle Scout. I was somewhat politically active in college. I was president of my fraternity, president of an environmental group for a couple years. I worked on condom distribution on campus.
I didn't come out till the end of my junior year, beginning of my senior year. That made a big difference in my life. That made me much more aware of opportunities to get involved.
MW: Was college also in Upstate New York?
MARINER: No, I went to school in South Carolina. I became aware [of my sexual orientation] in college and I came out in college. The experiences were relatively close. I was pretty clueless in high school.
MW: What was the atmosphere there like when you came out?
MARINER: We had a gay-straight alliance on campus that had just started, very small. What I loved about my fraternity brothers was that six of them actually set up a group appointment with a therapist to talk through their issues with me coming out. They had issues, but there were the "bonds of brotherhood," or whatever you might say. At least they were willing to, you know, talk to someone about it, learn more about it. I'm still friends with a lot of those guys.
MW: After college, since moving to D.C., how has your career evolved?
MARINER: I worked with Advocates for Youth, starting a GLBT-youth Web site called YouthResource.com, which is still around today and is a great resource for young people coming out. They're an adolescent reproductive and sexual health organization that has a strong LGBT component within. They brought me in to be a policy person and I gradually shifted to an LGBT-initiatives program.
I'd been involved with HIV at Advocates as well, and went on to work for Social & Scientific Systems, which is a consulting firm in Silver Spring — hence my little Silver Spring experiment — and they are the operating center for several AIDS-research networks. I worked for the community programs for clinical research on AIDS. I did some work with some of the other networks, facilitating community involvement in HIV/AIDS research.
MW: Making you a perfect HIV-vaccine trial candidate?
MARINER: Yes! I did my vaccine trial in, like, 2000. It was still early and people had their own ideas about what it means to be in a vaccine trial. The only reason I told my parents was because there was a New York Times article about vaccine research and they had interviewed me, so I was like, "Oh, I've got to tell my parents." And my mom said to me, "I always knew you were going to die of AIDS."
MW: Wow.
MARINER: Yeah, it was kind of heavy. Just when you think your parents have worked through all of their issues….
Obviously I had to educate my parents that I wasn't positive and that being in the trial wasn't going to put me at risk. But it was a little bit more challenging because people didn't know as much about it then as they do now.
I had to learn, too. I have a really good friend, Matthew Murguia, who was in the trial and had talked to me about it. I did the whole nine — I went in, watched the video, talked to some people, learned about everything. The more you understand it, the more comfortable you get. When I learned more about it, I decided it was something that was important enough to do.
Matthew and I are the folks who founded the Capital Area Vaccine Effort (CAVE). Obviously, I still think it's very important. There's a lot of work that still needs to be done, but every trial takes us a little closer. I think it would be just one of the most amazing contributions that we could make to the world: a vaccine.
MW: Does your experience elevate The Center's health acumen? As a gay Washingtonian, should I be able to count on The Center to advocate on my behalf on health issues?
MARINER: I think that's a fair statement, absolutely. But you can also come to us if you're an artist looking for someplace to explore your creativity. You could come to us if you're a writer and you want to talk about your latest book. There are a lot of reasons why people come here. People come just to find a social network, or to make that first contact with the GLBT community.
MW: I noticed on your blog that you're involved with Kiva. Tell me about that.
MARINER: It's not something I'm affiliated with, but it's a non-profit that I support. I love Kiva because it's an opportunity to lend someone money so that they can build a better life for themselves. My parents had a restaurant, a business that they built, so I can very much relate to people who want to do that.
It's exciting to support people in their endeavors. It's nice to give people the tools they need to improve their lives, rather than just kind of making a generic donation. You go through and you see that, say, this person from Peru needs money for a cow, and you decide whether you want to chip in and help pay for the cow. Then they send you e-mail updates, little reports about how the business is doing.
Most of these loans are paid back. Obviously, if the country goes into turmoil, that loan might not be paid back. But it's fun. It's fun to help people that way. I just got Kiva gift certificates for all my nieces and nephews so they could learn about lending money and learn about how people build businesses.
MW: Aside from Kiva, what do you do with your free time?
MARINER: I spend a lot of time on [my] Web site, Temenos.
MW: What does "temonos" mean? Is it Welsh?
MARINER: [Laughs.] It's not. Harry Hay, when he was involved in the Radical Faeries, talked about this principle of [Native American] "Two-Spirit communities."
Tribes would set up their camps in circles, but in some situations the tribe would be in one circle and the Two-Spirit community that was associated with that tribe would set up their own circle off to the side of the main tribe, by choice, to say, "This is our more spiritual place."
He used the term "temenos," which is Greek for "sacred space," to refer to the space that Two-Spirit people inhabit. I always liked the word in that kind of association.
MW: Other pastimes?
MARINER: I'm a bit of an advocacy junkie. I love to stay up on politics. I love to blog. I love to read. I love just hanging out and enjoying the city with my friends.
MW: What are you reading?
MARINER: I'm reading Kai Wright's book, Drifting Toward Love: Black, Brown, Gay and Coming of Age on the Streets of New York. It's very good. He's very smart, very insightful.
MW: What do you want people to know about The Center?
MARINER: The Center is doing well. We've hit our five-year mark. We filed our five-year tax document so we've got our permanent non-profit status.
We've got six strong programs: the Elder Think Tank, the Crystal Meth Working Group, CenterArts, OutWrite, David Bohnett Cyber Center, and the Tobacco Working Group. DC for Marriage is going to become a project of The Center. And I hope we'll have some HIV/AIDS stuff in the future, awareness and education pieces.
It's a great time for people to get involved. We've got some great new board members with a great range in age, in diversity. I would encourage folks to stop by and see us. It's great to have people stop by and actually see the space, see some of the programs we have going on.
We have until November 2009, but this is also a great time for us to start thinking about — and for other people to start thinking about — where they would like us to be in November in 2009. And our fall fundraiser is Sept. 4 at the home of Donald Hitchcock and Paul Yandura, who are wonderful.
We're in a good place. I'm excited for what's ahead for The Center.
For more information about The Center, visit www.thedccenter.org, or call 202-682-2245. The Center is located at 1111 14th St. NW, Suite 350. David Mariner blogs at www.temenos.net.