Aimee Mann writes wistfully about faded glory on her latest album. "It must be hard seeing the same old crowd just pass you by on the street," begins the second verse of the song "Ballantines." But the former lead singer of 1980s band 'Til Tuesday ("Voices Carry"), who gained further recognition as a solo artist for her work on the Magnolia soundtrack a decade ago, isn't singing about herself. She's actually singing about a classic American beer widely popular in the mid-20th Century. In fact, the sprightly song sounds like it came straight from a 1930s-era vaudeville show.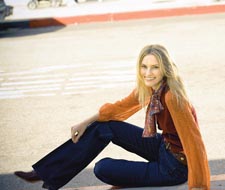 Aimee Mann
Prior to "Ballentines," which serves as the album's closing track, the famously moody singer-songwriter, shows herself to be in an uncharacteristically playful mood. Though the album's deceptive title may damn those too-happy people, the type who tell you to smile and lighten up, her decision to use ideograms to stand in for the curse word — whichever one you choose — in the official title speaks volumes about her mood. The concept, drawn from cartoons, wasn't just a way to get @#%&*! Smilers on store shelves without protest. And it's not just a way to be cute. It seems to have inspired Mann in both the music and especially the fantastic album packaging, a masterpiece in itself.
Mann is overdue for a Grammy honoring her music, and as probably her most accomplished set yet, @#%&*! Smilers should help make that happen. At the least, the album should help Mann win a second Grammy for Best Recording Package to follow the one earned for 2005's The Forgotten Arm. She's clearly got a knack for the art.
Mann's music has progressed since she started in the business as a ballsy new-wave rocker more than two decades ago. On @#%&*! Smilers, Mann rocks pretty hard on several tracks, but her employ of horn and string players helps her get orchestral or jazzy on many others. Throughout the set, Mann eschews her once-standard electric guitar, relying instead on the haunting, measured beauty of acoustic guitar — plus the unabashed fun of electronic instrumentation, with frequent use of Wurlitzers, Clavinets and analog synthesizers. The result is a rich tapestry of complex sound and emotion, in grand yet understated fashion, pairing perfectly with her plainspoken and powerful lyrics. The songs are mostly focused on character studies and observations of other people around Mann. It's an album less suited to soundtrack a stormy Saturday afternoon, as you might think about her past output, and more to a leisurely, sunny Sunday morning — perhaps while doing New York Times crosswords. Mann talks about doing just that on "Stranger into Starman," a bitter song about celebrating people unworthy of, or at least unprepared for, being celebrated.
AIMEE MANN
@#%&*! Smilers

SuperEgo Records
$16.98
Performing Live
Sat., Aug. 2
9:30 Club
$35
The song "31 Today" is a slightly autobiographical piece reflecting Mann's insecurities from when she was just a budding solo singer. The Wurlitzer chords give the song a sweet, even jaunty tone, balancing its message. "I thought my life would be different somehow, I thought my life would be better by now," Mann sings. But sometimes you have to wait it out, the 47-year-old implicitly offers as words of wisdom. While age and experience has helped Mann gain confidence and self-assuredness, she credits her growing fascination with the sport of boxing with helping her relax under pressure, as well as appreciating living in the moment. Appreciating what you've got while you've got it is one implicit message running throughout the album. What happens if you don't achieve as much later in life as you did early on? It doesn't mean you can't carry on, Mann suggests.
Another song on the album, "Looking for Nothing," is specifically about two former professional boxers who work out at Mann's gym. But Mann says it's ultimately about that moment in anyone's life when you grow older and stop pursuing the one feat you always thought would make you happiest and now realize is unattainable. "I ain't looking for nothing, just spend the money I made," Mann sings. "I ain't looking for nothing, today."
As a result, today, at least musically, Mann is unquestionably happier than she's ever been — and her music all the better for it.
From YouTube: Aimee Mann, 'Freeway'
Advertisement

| | | |
| --- | --- | --- |
| @#%&*! Smilers | Til Tuesday: Coming Up Close (collection) | Bette Midler: Jackpot – The Best Bette |