At James Madison High School in Vienna, Va., being the gay member of an all-male swim team was "rough" enough, says Dan Martinelli. The feelings of isolation and awkwardness, which peaked in the locker room, provided enough reason for the 19-year-old to consider ditching the sport before moving on to Marymount University in Arlington.
"I told myself I'm not going to swim in college," Martinelli remembers, illustrating that crossroads with his memories of trying to avoid awkward moments in the high school locker room with his teammates.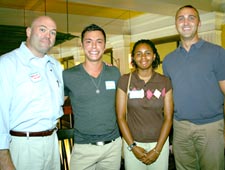 "I would just kind of go off into my own little corner while the team congregated together, like straight guys do, in the locker room."
That routine was eventually interrupted when Martinelli was confronted by the team captain.
"He asked me, 'Why do you isolate yourself after practice?' And I told him the truth: That I was gay."
Outing himself certainly didn't put an end to the occasional, homophobic insults from his teammates. Over the course of the season, however, it did change Martinelli's outlook on college.
"The more people I told about my identity, the more people became accepting of it, the more people talked to me. Little did I know that they were okay with it. I just had to let them know."
Now getting ready for his sophomore year studying pre-law and swimming at Marymount, Martinelli is also celebrating a $1,500 scholarship recently awarded to him by Team DC, a volunteer-based organization that encourages members of the GLBT community to get involved with sports by supporting local teams and athletes.
Brian Watkins, chair of the Team DC Student-Athlete Scholarship Committee, who works as the director of the Office of Parent and Family Affairs at the University of Maryland, says the committee established a specific list of criteria last October for applicants.
"Some of the big components of that for us were that they were academically talented, that they were participants in a competitive or recreational sport, and that they were out to some degree," he says.
"Even though it's more open and easier for young people to be out these days, in the sport community that's not always true. There's an added element of a closet here."
Watkins says he was not at all disappointed that only five people applied for the scholarship.
"We were actually very excited," he says. "This is the first year that we're offering this scholarship, and we're also dealing with a scholarship that's very specific."
After narrowing the scholarship-selection process to three of the five applicants, Watkins says the committee could not choose one to be the sole recipient.
"We believed so strongly in all three of these applicants that members of the scholarship [committee] made personal donations right on the spot so that we would have money to give. That gesture speaks to how strongly we believe in the scholarship, but also how much we believe in [the recipients]."
Joining Martinelli among this first batch of students to receive funding from Team DC is Michael Hull. The 18-year-old, gay volleyball player from Reston, who graduated from Langley High School in June, plans to major in operation-management information systems, with a minor in criminology, at Ball State University in Muncie, Ind.
For the essay question on Team DC's application, which asks applicants to describe how being gay has impacted their involvement in sports, and how that involvement has improved perceptions of the gay community, Hull, who was raised as Mormon, wrote about some of the challenges he has faced both off and on the court.
"I never came out to the people in my church," Hull says, also mentioning that he no longer practices Mormonism.
Coming out to his parents in high school was a challenge, Hull adds, "because Mormons create a community where they can keep to themselves, [with activities] like dances, and camping trips. [My parents] wanted me to keep doing that and other activities with the church. I didn't want to because I didn't feel like I could be honest with people at church.
"We had disagreements over that, and we kind of compromised to the point where they still have me go to church on Sundays, but I don't have to go to activities. It's a workable medium."
Hull has, however, found acceptance with his volleyball team.
"Eventually I came out to everybody on the team, just slowly. I got through all of them, and they were all fine with it. I didn't get any crap from them for being gay," he says. "None of my friendships with them ever changed, which I think speaks to their character very highly."
Despite teammates slipping out a "That's gay" derision now and then, Hull says he's comfortable.
"They do say that, but a lot less I've noticed. Or they'll catch themselves as they're doing it around me. I think they've made an effort to cut back.
"I'm hoping the gay community will push their athletes more, or make them more visible within the gay community, and even within the straight community, just in general. Because it's important to help break down stereotypes. Pushing the sports agenda within the gay community will help further break down those barriers and stereotypes that are still lingering."
Also doing her part to break down barriers and stereotypes is 18-year-old Brittany Reynolds, a lesbian from T.C. Williams High School, who enjoys rugby, fencing and Judo. She's planning on using the Team DC scholarship to help pay for tuition at Virginia Commonwealth University in Richmond, where she plans to major in psychology.
In her scholarship-application essay, Reynolds says she wrote about how sports helped her learn that, as a lesbian, not only could she stop isolating herself, but that support is often there when you look for it.
"I didn't really like team sports, because I kind of liked to do things by myself. I consider myself a very independent person." That was before Reynolds discovered rugby in her junior year of high school.
"Playing sports has taught me the importance of team work and the fact that sometimes you just can't do everything by yourself."
Watkins says the committee was impressed by Reynolds' leadership abilities, including her intent to join the Northern Virginia AIDS Ministry (NOVAM).
"She's been involved in multiple sports and what was very clear with us was her leadership ability, especially as a member of the rugby club," Watkins observes.
Brent Minor, president of Team DC, describes the organization's scholarship as innovative.
"As far as we know, it's one of the few — if not the only — programs for gay and lesbian student athletes," he says. "There are more gay scholarships, or scholarships for gay students, but our idea is really to shatter the myth that gay and lesbian people don't participate in sports."
Visit Team DC online at www.teamdc.org.