Jonathan Padget, a former Metro Weekly staff writer and contributing playwright/composer to the 2007 Capital Fringe Festival, recently earned honors at his current spot as a copy editor for the Washington Post's Style section.
The American Association of Sunday and Features Editors last week awarded him First Place in the category of "headline writing."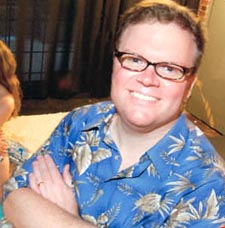 Jonathan Padget
"I'm just real tickled," Padget says with a laugh. "It was my first time entering. It's really thrilling.
"There are really some big names at [the Washington Post] who have won the award in the past in that category, and when you look at the history of the winners … we're talking about people from the Los Angeles Times and the Wall Street Journal and USA Today, and you go, 'Wow, am I one of those people?"'
The Excellence in Feature Writing Awards is open to any newspaper in Canada or the United States that publishes a daily features section. For the "headline writing" category, Padget submitted three headlines, judged wholly as a representation of his work.
His headlines were: "In the Toilet, Too: NBC's Ratings for Larry Craig Interview"; "Fox Hears 'Strike' and Makes the Call: '24,' You're Out!"; and "Swelled Head of the Class: Kanye West's Latest Is Rap's Boast of the Town."
Padget received a $500 prize for his top honor, in addition to an invitation to attend AASFE's conference in Houston in October.
Padget, who last year directed, wrote and composed his musical version of The Blue Lagoon for the Fringe Festival, began working at the Washington Post as an editorial assistant in April 2003.
The organization recognizing his headline-writing talents is comprised of American and Canadian editors "dedicated to the quality of features in newspapers and the craft of feature writing."