Between high gas prices and fear of losing your job in this economy should you take a vacation, maybe you've not yet made it to Rehoboth this season. Not to worry — the Capital Fringe Festival brings Rehoboth to you in the form of Bear Beach, a world premiere musical set at everyone's favorite Delaware seaside retreat.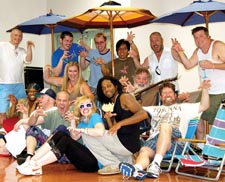 Cast of 'Bear Beach'
"We were working on a show here in Rehoboth, a bunch of artists doing a rock opera of mine," says Kevin Smith, who co-wrote the show with former boyfriend, Bill Toscano. "That's what the story is about: all these actors and singers coming together to work on a show. We didn't set out to write a bear musical. We just wrote about life. It's about being at peace with who you are, body image, sexuality…. It's about self-acceptance."
Catch Bear Beach at Warehouse Mainstage, 1021 Seventh St. NW, on Friday, July 18, at 7 p.m.; Wednesday, July 23, at 9 p.m.; or Saturday, July 26, at 4:30 p.m. Tickets are $15. Call 866-811-4111 or visit www.capfringe.org. Visit Bear Beach online at www.bearbeachmusical.com.