It's a bird, it's a plane, it's a superhero from hell. At least when he's drinking. And he's always drinking.
Meet John Hancock (Will Smith), a lonely superhero who fights crime with his own special flair. If you piss him off, not only will he throw you in jail, but he also might stick your head where the sun don't shine. Literally. Hancock takes the "jailhouse bitch" thing to a whole new level.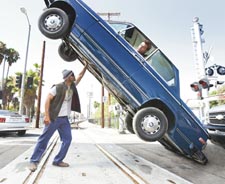 Will Smith in 'Hancock'
But since it's Will Smith, of course he's not a complete bad guy, just misunderstood. And that's the whole premise behind Hancock. Hancock is the only one of his kind on Earth and he's starting to tire of the whole "save the world" bit. He doesn't know where he comes from and doesn't know where he's going. It's very deep.
When Hancock saves the life of failing advertising exec Ray Embrey (Jason Bateman), Ray decides that all Hancock needs is a little detox, some new clothes, and a better publicist. Which is a shame, really, because the movie is funniest when Hancock is being a complete and utter ass. Teaching a bratty young kid a lesson is hysterical; finding your purpose in life is a drag. So just as his wild and crazy life is kept in check, so are the laughs.
One of the biggest surprises, since you wouldn't know it from the advertising, is that Charlize Theron joins Smith and Bateman in the film. Theron and Bateman bring the chemistry they showed in Arrested Development to the big screen as quite an adorable couple. They're the subdued yings to Smith's crazy yang, and it allows for a little balance in the film. At first.
HANCOCK

Starring Will Smith
PG-13
92 Minutes
Anyone who doesn't see that Hancock is not actually the last of his kind on Earth, or even who the other person is, isn't paying attention. It's so glaringly obvious, I actually started to wonder if it was a ruse to mask the real surprise. But no, it's the obvious choice and it's as clunky as it could possibly be. To play out the superhero genre a little, director Peter Berg can't decide if he's making an action-filled superhero film, or a mild mannered comedy. Is it Superman or Clark Kent?
Probably the biggest downfall of the film is that there's no real bad guy. The best that writers Vincent Ngo and Vince Gilligan could do is half-assed at best. In fact, it all hinges on a mythology that is strained and ends up taking too much explanation to make complete sense.
Hancock is a little bit of several things and not completely successful at any. However, a couple laughs, a couple of fights, and a couple of tender moments do piece together in some type of Frankenstein whole. Like Hancock, the film doesn't really fly in a straight line most of the time, but it does manage to lift off and rise a step above a number of other films out there right now.
---
Popcorn? Check. Soda? Check. Intelligence? Check at the door. Because brains aren't needed for what's in Wanted: blood, gore, ridiculous stunts, and lots of pretty people. Well, two pretty people.
WANTED

Starring James McAvoy, Angelina Jolie
Rated R
110 Minutes
Wanted is every cubicle mole's fantasy — that his mundane and boring life is going to be rocked when a frickin' hot babe shows up. Wesley Gibson (James McAvoy) is your typical office drone, who one day finds out he's been chosen to join a secret society of assassins called The Fraternity. After lots of training from Fox (Angelina Jolie), he starts killing people. The rest of the plot is inconsequential except to say that a lot of people die.
It's impossible to take a movie (even an action flick) seriously when the hero says in voice over, "I'm the perfect weapon," while luring rats into a garbage truck with peanut butter. So Wanted is best for checking out of reality while checking out either Jolie or McAvoy — pick your poison. Both are fun to look at and both kick lots of ass.
Director Timur Bekmambetov makes up for the lack of plot by ensuring you experience the multitude of deaths in a variety of gruesome ways. If you close your eyes during the first time a bullet exits the brain, he'll replay it in reverse so you can catch it the second time. On one hand, he does some really fun things with the "curving bullet" routine, but on the other there's also a giant spinning wheel of death. Just focus on the visuals and don't try to untangle the storyline.
In essence, Wanted is like The Matrix on speed — and acid. It might be a good time, but you're going to lose some brain cells in the process.
From YouTube: Hancock (Trailer)
From YouTube: Wanted (trailer)