"I'm a loser baby, so why don't you kill me?" Singing one of pop music's most unusual and least forgettable lyrical refrains, Beck Hansen emerged on the scene well over a decade ago with "Loser," a song some called an anthem for the so-called slacker generation. The irony in that notion is doubly ripe: As with many in the 38-year-old's demographic, Beck, known simply by his first name, is actually the opposite of a slacker. He's been one of the most prolific musicians in the past 15 years, having produced a studio album at least every other year. And he's also experimented with a divergent range of musical styles on his albums, from hard rock to folk to funk and hip hop. Given the unwavering critical, commercial and major-label support he's received ever since, Beck is certainly the opposite of a loser.
But he has unquestionably lost some of his early appeal. His all-over-the-place eclecticism has made it a challenge for even the most devoted of Beck fans to keep up. And it certainly hasn't helped him win over many new fans, or even attract casual support. According to a recent New York Times article, his new, eighth studio set was made in part in recognition of that fact. Modern Guilt (



) aims to split the difference between his quieter, folkier side and his harder, rockier bent, melding them together through a veneer of R&B and hip hop.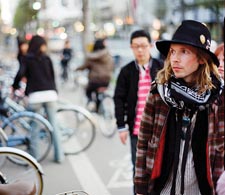 Beck
Beck worked with Timbaland on a song seven years ago, years ahead of everyone else. Perhaps he's ahead of the curve again, or at least hopes to be. On Modern Guilt, he tapped as producer Brian Burton, who goes by the cartoon-derived pseudonym Danger Mouse, already widely known in the music business for his work as part of the duo Gnarls Barkley. But major artists have not come to call on him as a producer just yet: Before Beck, his highest profile producer gig was for Gorillaz, a stint that earned him a Grammy nomination.
Working with Danger Mouse, Beck does succeed in his general aim: Modern Guilt features 10 short songs with wide appeal. The sound is more alternative, psychedelic-tipped rock than folk, and hip hop is only really reflected in the minimal electronic samples of beats and synths Danger Mouse adds to Beck's standard bed of guitars, piano and percussion. Singer-songwriter Chan Marshall, better known as Cat Power, harmonizes and hums with Beck on two songs, including trippy lead track "Orphans." "I think I'm stranded but I don't know where," Beck says, kicking off the song and the album with a sense of being stuck and alone. The sound is of that, too.
In fact, throughout all his various musical styles, one consistency has been the overall dull texture to Beck's sound, also reflective in the tone of his voice. Aside from his falsetto, neither the music nor the vocals generally reach for higher ground, where flights of freedom and fancy cause commotion. Instead, Beck spends most of his time either in shallow, tepid waters where contentment keeps little from stirring, or in deep, dark recesses where anger rattles and rages but stays locked in place in a depressed grip. The lyrics aren't usually hopeful or striving either. On "Walls," Beck and Cat Power ask together, "Hey, what are you gonna do, when those walls are falling down, falling down on you?"
Advertisement

| | | |
| --- | --- | --- |
| Beck: Modern Guilt | The Ranconteurs | John McLaughlin |
Beck implicitly gives credence to a modern-day conspiracy theory on Modern Guilt. "Chemtrails," the first single, takes its title from the scientifically specious conspiracy theory that the trails following some airborne aircraft are not caused by relatively benign exhaust fumes but actually by spraying unknown chemicals for an undisclosed purpose. Beck's synth-laden song is as eerily atmospheric as the song's subject, with Beck's falsetto vocals adding a stratospheric creep to the lyrics. In typical Beck fashion, these lyrics are a bit cryptic. Yet they express familiar, resigned concern about things beyond one's control, about something happening to people down below. "I can't believe what we've seen outside, you and me watching the jets," Beck sings. "We've already drowned, you and me, watching a sea full of people try not to drown."
The title track sounds exceptionally jaunty for Beck, with marching beats and blippy synths, but the lyrics find him as tortured and conflicted as ever. "Modern guilt, I'm under lock and key," Beck sings, seemingly about political correctness run amok. "Misapprehension is turning into convention. Don't know what I've done, but I feel ashamed."
He's not a slacker or a loser — but he still feels like one.