On the surface, the Mazda CX-9 crossover SUV — a lower-profile SUV that combines the lower profile of a car with the larger capacity of a highway hauler — is stylistically the exact kind of SUV I can get behind. With its sleek lines and solid stance, it has all its proportions in the right place.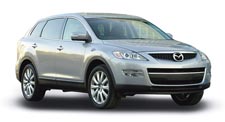 Mazda CX-9
That's not to say that the CX-9 is small, it's just that it doesn't look quite as big as it actually is. It does, after all, seat seven people with the use of a third row back seat that, while not exactly where you'd want to sit for a four-hour drive, is a rare instance of a third-row option that will accommodate actual grown-ups.
Whether you're someone who needs the space to haul your latest shopping sprees, or you're a growing gay family looking for something a little more stylish than a minivan, the CX-9's interior offers a lot of space with a lot of style. The driver's seat keeps you feeling firmly and comfortably ensconced. Small touches such as the blue lights softly glowing inside the door handles add to the overall vibe, although they don't carry quite the same ooh and ahh value they did a couple years ago. Such is the trickle-down effect of automotive luxury.
2008 Mazda CX-9 Grand Touring
MSRP: $34,655 based; $41,455 as tested
Gas mileage: 15 city/21 highway
Highlights: Excellent exterior styling makes the CX-9 stand out, while the spacious interior is filled with luxurious touches.
Lowlights: Gas mileage numbers will cause second — and third — thoughts in even the deepest pockets.
The CX-9 drives well, to boot, and is far more nimble than you might expect. Still, its deceptive size — it's not tall, but it's definitely long and wide — can make maneuvering through garages and into parking spaces a challenge. The V6 engine delivers a competent amount of power, although its not as "sporty" as its more highly revved sibling, the CX-7.
The stumbling block, naturally, is the CX-9's gas-mileage numbers, which, with gas prices looking to stay well over $4 a gallon for the long-term, just aren't good. Fifteen miles per gallon for city driving will certainly make you think twice. But with end-of-year incentives — Mazda's currently offering zero-percent financing — you may be able to cut yourself a deal. Just be sure to do the math.
From YouTube: