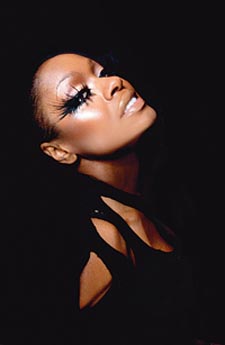 Ultra Nate
LIKE A ROBOT AT YOUR COMMAND… Ultra Naté topped the Billboard Club Play Chart last summer with her fantastic cover of the Pointer Sisters' 1980s hit "Automatic." And yet, you've probably heard it more this summer than you did last. The reason: Six new remixes were released earlier in the season, most significantly the Tikaro, J. Louis & Ferran mix that practically every leading gay club DJ has put in regular rotation, from Abel to Junior Vasquez to Brett Henrichsen, who included it on his Masterbeat One Mighty Weekend 2008 compilation.
And with any luck, you'll be hearing a lot more from Nate. In a few weeks her label Tommy Boy will re-issue her underappreciated studio album from last year, Grime, Silk & Thunder. According to a press release, Alchemy: GST Reloaded will include all six new remixes of "Automatic" as well as other new and previously unreleased mixes of songs from the original album, which also included the hits "Love Is the Only Drug" and "Give It All You Got." Most interesting yet is a bonus disc, a compilation mixed by Nate, a regular DJ in her home base of Baltimore and at select dance industry events. To quote Nate, "it's automatic, I'm so excited"….
From YouTube: Ultra Nate, 'Freak On'
CIELO'S THE LIMIT… A hot new remix of Ultra Naté's seven-year-old song "Twisted" takes center stage on a new compilation celebrating New York's best place to hear all varieties of house music, Cielo. Mixed by Cielo residents Nicolas Matar and Willie Graff, Cielo Cinco is a two-disc set as classy and sophisticated as the intimate Meatpacking District club itself, host to regular gay-popular parties, including one helmed by Junior Vasquez. Cielo Cinco starts off smooth and groovy, though it's deep and hot by the time Cielo regular and Grammy-winning legend Louie Vega's remix of Naté's "Twisted" comes in at the peak of disc one. "Got me going round and round and round and round," Naté sings in spirals. House music this good and timeless you'll want to spin forever, too….
MY JOY, MY PEACE, MY STRENGTH… Quentin Harris worked as a co-producer on Ultra Nate's album, and the increasingly prominent dance producer's signature sound — deep house with serious bass lines, leavened by sweet touches from soul and disco — helped make Grime, Silk & Thunder more interesting than it would have been. The same is true with Colton Ford's Tug of War album: Ford's music is better than you'd expect from a former porn star still using his sex appeal to draw attention, and it's all because of Harris, so critical he plays a supporting role in Ford's videos. The Detroit-born, New York-based Harris is a regular DJ in Europe, and next month he'll debut at New York's gay Alegria party. But right now you may be most familiar with his work in remaking a fiery, three-year-old track from neo-soul singer Leela James, which he's turned into one of this summer's biggest club burners. In Harris's remake of "My Joy," Margaret Grace sings about finally getting over her no-good ex. "'Cause, if, I, thought, you were the end all, and my be all," Grace sings in a sweet voice, repeatedly pausing for dramatic effect. That is, until she gets to the three-part punch line: "I would've never left you alone, and I wouldn't be on my own, and I never would have wrote this song." The song, to say the least, is this disastrous relationship's silver lining….
From YouTube: Colton Ford, 'The Way You Love Me (Morel mix)'
DEFECTED, DON'T STOP… The phenomenal Harry "Choo Choo" Romero remix of Harris's "My Joy" is a stellar track on a stellar compilation, Defected in the House: Miami 08. Many months after its release, the Defected disc three still reigns as the best mixed CD we've heard this year – and better still, you can get the whole 42-song, three-disc set for only $9.99 at iTunes. The slow-burn of disc one is perfect for a cocktail party – faster than chill-out music, with some hip-hop thrown in, but not so hot you're quite ready to strip off your shirt. That doesn't happen until the end of disc two, which perfectly sets up the nonstop heat from disc three, a fantastically mixed collection of house from the DJ known as ATFC that will appeal to all those who love both happy, vocal-driven songs and hard and banging electro-tipped tribal. You'll be begging for more – or as ATFC puts it on his own original composition at the end, "Ya killin' me; please don't stop"….
THE FEDERAL PLEASURE PRINCIPLE… Now, if only they could do something to revive Janet Jackson's career: A federal appeals court rejected the Federal Communications Commission's half-million-dollar indecency fine against CBS, a fine levied for the 2004 Super Bowl halftime show when Jackson had her infamous, career-damaging "wardrobe malfunction." It was an over-reaching and just-plain ridiculous fine, as the judges made plain in their verdict – though it was based on precedent, not on prudence. "The Commission's determination that CBS's broadcast of a nine-sixteenths of one second glimpse of a bare female breast was actionably indecent evidenced the agency's departure from its prior policy," they wrote, referring to its decades-long policy of not fining for isolated or fleeting material. No doubt the FCC will appeal, on account of the agency's hypocritical concern for the children who watched the game and halftime show yet somehow missed the commercials using sexual imagery and innuendo for the likes of Viagra and beer….
Advertisement

| | | |
| --- | --- | --- |
| Ultra Nate: Alchemy – GTS Reloaded | Cielo: Cinco | Quentin Harris: Mix the Vibe |