Maybe you've been too busy to plan ahead, or perhaps your beach plans fell through at the last minute. But whatever the cause, you find yourself making some last-minute plans for a July 4 cookout. After all, it wouldn't be an all-American summer holiday without something sizzling on the grill.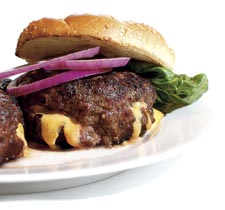 Then again, your cookout is tomorrow. Or, worse, today. Don't worry, there's always a way to put together something special for you and your friends. And there's nothing here you won't find in your kitchen or on a quick dash to the supermarket.
Few things say all-American like a fresh-off-the-grill cheeseburger. The trick here is to put the cheese on the inside as a gooey and tasty surprise.
2 lbs. ground beef (85% lean)
1 to 2 Tbsp. Worcestershire sauce
1 to 2 tsp. salt
1 to 2 tsp. ground pepper
6 oz. block of sharp cheddar, diced
Pre-heat grill to medium-high.
In a medium bowl, mix together by hand the beef, Worcestershire, salt and pepper. Divide and form into six balls. One at a time, make an indentation in the meat ball, about halfway into the center. Place one ounce of the diced cheese in the indentation. Working from the sides, reform the ball to cover cheese, then form into a patty about 3/4-inch thick. Make sure cheese isn't poking through the surface.
Place on grill and cook three to five minutes on each side, depending on desired doneness. Serve on toasted, whole-wheat buns with lettuce, tomato, onion and your favorite condiments.
Of course, every good burger needs a good side. My sister introduced me to this quick corn salad, and it's become a staple of every cookout at my house.
1 14-oz. can whole-kernel corn
1 small onion, chopped
1 red bell pepper, chopped
2 to 3 Tbsp. fresh parsley, chopped
1 Tbsp. cider vinegar
1 Tbsp. vegetable oil
1/4 tsp. salt
1/4 tsp. pepper
In a medium bowl, gently mix all ingredients. Cover and chill in refrigerator at least four hours before serving.
The recipe serves four to six, and is super easy to double (or triple) if you're hosting more guests. Or, more likely, if you want to make sure you have some leftovers to enjoy come July 5.
Sean Bugg is the co-publisher of Metro Weekly as well as the proprietor of Ascribe Catering.