Thirty-seven. That's how many times your heart might break during American Teen. It's high school-concentrate — all the highs and lows and mistakes and inevitable angst that accompanies growing up packed into 100 minutes.
This roller coaster of hormones and emotions has been captured by documentary filmmaker Nanette Burstein, who spent ten months filming the senior class of Warsaw Community High School in Warsaw, Indiana. Between the first day of school and the last, these kids go through it all and it's neatly — sometimes too neatly — presented for mass consumption.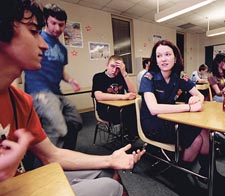 American Teen
One of the advertisements for American Teen brilliantly mimics the iconic Breakfast Club poster from 1985, posing the featured teens as their clichés: jock Colin, princess Megan, geek Jake, rebel Hannah, and heartthrob Mitch. Each of the kids has a compelling story to tell and, just like high school, some of them you're going to love and some of them you're going to hate.
It's quite remarkable how much each individual is willing to open up in front of the camera. It pulls you in and you suddenly have new best friends and new mortal enemies. You want to cheer for the three-pointer that wins the basketball game and audibly groan when someone gets dumped. Until one scene that comes as a reality check and epitomizes the whole issue at the heart of the film: just as a girl slaps her friend across the face, the microphone battery pack clipped to her pants comes into view. It's a reminder that she's very much aware that an audience will one day watch this tirade.
AMERICAN TEEN

PG-13
95 Minutes
Opens Aug. 1
Area Theaters
In this age of reality television, MySpace, and blogs, it's pretty much inevitable that a teenager on film is going to overreact — or over act — to give a good show. It's the epitome of the observer effect, where the simple act of observation changes the action at hand. This has always been true for documentaries and even more so for teens.
Director Burstein certainly had a lot of footage to work with after ten months of filming; often the story feels over-edited, clearly cut to maximize impact and pathos. That aside, she still elicits amazing emotions and stories from her subjects, and even if it feels a little processed, this is one trip back to high school I wouldn't mind taking again.
From YouTube: 'American Teen' Trailer
---
I want to believe that writer and director Chris Carter didn't mean for his latest X-Files project to be so oddly anti-gay, however there's not much else to take away from it. But more about that later.
Billed as a standalone film intended to introduce The X-Files to a new generation, all kids who didn't grow up with the show are really going to do is scratch their heads and say, "What's the big deal?" While there are enough hints along the way that allude to the crux of the original The X-Files that ran on television from 1993 to 2002, none really capture the good old days of Fox Mulder (David Duchovny) and Dana Scully (Gillian Anderson).
For the film, which is self-contained in the sense that it doesn't expand upon any of the old storylines, Scully is now a doctor at a Catholic hospital where she treats kids with terminal illnesses. When FBI agents Mosley Drummy (rapper Xzibit) and Dakota Whitney (Amanda Peet) approach her to enlist the help of elusive outlaw Mulder in the search for a missing agent, Scully convinces him to come out of hiding. Of course as soon as there's a psychic in the picture, Scully changes her mind.
The psychic in question is Father Joseph Crissman (Billy Connolly), a pedophile priest who believes his visions are, like his lusting for little boys, something from God that he must endure.
It's impossible to fully discuss the incredibly weird gay themes without revealing major plot points, so read no further if you'd rather experience it for yourself (which I don't recommend). When the kidnappers turn out to be a molestation victim of the priest and his "married in Massachusetts" husband, there's a hint of discomfort about the direction of the plot. When one half of the couple tries to surgically attach a woman's body to the decapitated yet still animated head of the other, it's just plain fucked up.
THE X-FILES: I WANT TO BELIEVE

PG-13
105 Minutes
Area Theaters
The whole film is incredibly inconsequential. The plot spirals pathetically out of control, and by the end has dug itself into a hole so deep it should never see the light of day again. The performances are mediocre at best with Duchovny and Anderson just going through the motions. Carter enjoys putting his cast into the middle of snowstorms, but otherwise there's not much that ties the whole thing together.
Personally, I would be more outraged about the ridiculous gay content of the film if I thought many people were going to invest much time or energy into The X-Files: I Want to Believe. Lacking any redeeming qualities, here's hoping it just gets buried in a box somewhere — much like an X-file should.
From YouTube: 'X-Files: I Want to Believe' Trailer