Despite what you might think from her new album's title, Martha Wainwright isn't asking her lover to commit adultery. She's actually professing her abiding love for an ex.
"You got a girlfriend, and I can only talk about her for so very long," Wainwright sings on "Bleeding All Over You," the song from which the album's title springs. "Then my mind turns into my heart and whispers into that dark cave that I've been wrong." After singing the titular refrain, she adds, with bracing honesty, "And I still love you."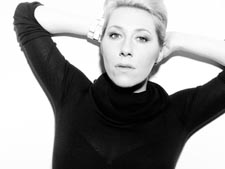 Martha Wainwright
You could say it's Wainwright's specialty: a focus on relationships and situations that have gone sour, taken a turn for the worse, even ended, leaving you wishing for more. It was the focus of her captivating and under-appreciated self-titled debut three years ago, and it is again on I Know You're Married, But I've Got Feelings Too (span class="rating">




). Perhaps it's just part of her "sad nature," as she describes it in the wrenching refrain on "Niger River." Whatever causes it, as strange as it may sound, it's lovely. It's good to hear that what at least appears to be an otherwise happy personal life — Wainwright got married last year — hasn't lightened her songwriting load.
If anything, Wainwright is supercharged on her new album. It's rockier, consistently louder and livelier, an altogether bolder stroke than her debut. Loudon's daughter, Rufus' sister, Wainwright is a gifted singer-songwriter who is quickly emerging as a purveyor of her own style of music — more rock than her dad's folk, more straightforward pop than her brother's theatrical productions. It's also slightly less countrified than the music of her mother, Canadian folk singer Kate McGarrigle.
Which is not to say you don't hear the family resemblance. And in fact, the new album is as much the family affair as the last one, with momma providing backup on the quirky cover of Pink Floyd's "See Emily Play" and Rufus singing backup on the psychedelic "The George Songs." A folk-singing cousin and aunt also contribute. So does The Who's Pete Townsend, strumming guitar on two tracks.
Her dad once again seems to provide ammunition — though "Hearts Club Band" is far less fiery than last album's "Bloody Mother Fucking Asshole." "You always wrote a song a day, and there were always words, and it made me want to say 'shut up!"' The verses in this leisurely rocker are a bit ominous, but the chorus is bright and sweet, and it ends with a trumpet cooing a sweet coda.
She reserves the most lyrical heat for America's current commander in chief. "Tower Song" is an exceptionally subtle protest of the War on Terror. "And when you say it has…nothing to do with you, you're a liar," she sings, clearly aiming in President Bush's direction. "Rebuild the tower, make it last longer, make it stronger, give up your power."
"Tower Song" is towering in its cinematic scope, as drawn out and dramatic and dour in feeling as you'd expect from any Wainwright. "It's like we're seeing in black and white," she sings, and you don't hear much color either; the shadows are dangerously alive though.
Advertisement

| | | |
| --- | --- | --- |
| I Know You're Married, But I've Got Feelings, Too | Martha Wainwright | Kerli |
Wainwright still sings often in a little girl's diction that is generally cute but can get cloying, and sometimes the warble, just like her brother's, gets in the way of deciphering what she's trying to say. But the music is gorgeous and stunning, helping you forgive her vocal tics in a way even easier to do than her brother's too-frequent dips into singing through his nose.
"Bleeding All Over You," for example, is a lush and longing song featuring chimey guitars, a chugging rhythm, and a chorus that shifts the song to a minor key, with multiple female voices soaring harmoniously several octaves and decibels above the music and the verses. Getting bloody has never sounded so healthy.
Wainwright ends the album with a riveting — if at first glance surprising — choice of a cover: the Eurythmics' "Love is a Stranger." But it shouldn't be surprising. For starters, Wainwright contributed to Annie Lennox's charity song "Sing" last year. For another, "Love is a Stranger" is every bit as bittersweet about love as anything Wainwright has written. In Wainwright's hands, the song becomes a hoedown, but it's still no cause for wanton celebration. Wainwright makes you appreciate anew the song's sharp lyrics about the beauty and the cruelty of love, which "comes in like the flood. It seems like religion; it's noble and it's brutal; it distorts and deranges." Obviously, Wainwright understands this better than anyone. And she makes you a believer as well.