In this age when your grocery store stocks frozen, organic vegetables — shipped from China — one may fairly wonder what the term "organic" even means. In a legal sense, at least in the United States, it's a certification that means a food has been produced without the use of synthetic chemicals, antibiotics or hormones, with some exceptions. Some would argue that such a definition is pointless without the addition of "local and sustainable."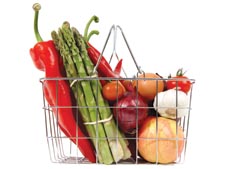 And for those others, there are a surprising number of options, from the obvious farmers markets throughout the area, to more esoteric adventures in eating. Fresh, local produce might be dropped at your doorstep. Or you might subscribe to a service that drops off ordered goods at a central location, like having a private farmers market. For the very adventurous, there's even a sort of black-market opportunity to get the blood pumping.
"You'd think people were trying to buy drugs, but it's just raw milk," says a gay man who lives in the Logan Circle area with his partner. He asked not to be identified due to his illicit non-pasteurized dairy habit. "Transporting raw milk and raw-milk products across state lines is probably illegal," he says, pointing to the vagaries of state laws on the matter and his supplier, an Amish farm in Pennsylvania.
Rather than scoring his yogurt and butter in a back alley, Mr. Raw places his orders by e-mail, for pick-up at the D.C. home of another raw-milk junkie. The quality, he insists, makes the law-breaking worth it.
"Nothing in the grocery stores compares. With the yogurt, it tastes like eating whipped cream. In the summer, the butter tastes a lot stronger because the cows are eating fresh grass."
And then there are the legal foods he collects from the same farm, such as grass-fed beef, poultry and eggs with blindingly orange yolks.
"My nephews won't eat my scrambled eggs," he says. "They're too orange. It scares them."
Chris Rasmussen — not a scofflaw — used a legitimate service when she lived in Takoma Park, Md., household, cooking for herself and a married, vegetarian couple. For these three woman, a weekly box of seasonal produce — at about $30 a pop — was plenty.
"They'd just leave them on the back porch and we'd leave a check," she says. "The produce was always very good, in good shape. I'm not sure if they were certified organic, but they didn't use pesticides."
She adds that the recipes included with the delivery were also helpful, with fare ranging from Swiss chard to pittypat squash.
For these three, however, the produce was so plentiful that they couldn't keep up. Today, Rasmussen lives in rural Maryland where an abundance of farmers markets serve her needs. She's certain, however, that if she were back in city, she'd go back to the farm-fresh deliveries.
She has some cautions, however, for those thinking that such service might be appropriate.
"We're used to getting what we want, when we want it. I want to support local farmers, but it's hard to eliminate bananas or other stuff you can't grow locally. When you go to the store, you get exactly what you want. You can make butternut squash lasagna in May.
"This forces you to think outside the box a little bit," she continues. "I wouldn't recommend it for someone who is a really picky eater, but I would recommend it for anyone who likes to cook."
For a comprehensive online listing of organic farms and markets serving the metro area, visit www.localharvest.org.