D.C. Trans Coalition continues effort to amend DOC guidelines on transgender inmates
Complaints regarding the handling of transgender inmates in D.C. jails, including stories from transgender people themselves such as Ruby Corado, have surfaced frequently in recent months.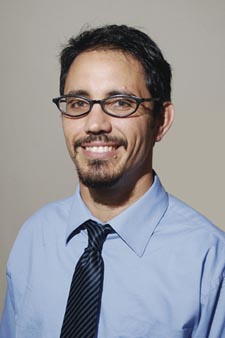 Max Toth
Now, four months after the D.C. Trans Coalition's initial meeting with the Department of Corrections (DOC), a new meeting, not open to the general public, has been scheduled for Tuesday, July 15.
"We're going to talk about what it is we disagree with, what we think [the Gender Housing and Classification Memorandum] should actually say, and going from there, letting them know that we have folks behind us," says Max Toth, a member of the D.C. Trans Coalition's leadership team.
The memo Toth cites, signed by DOC Director Devon Brown and released May 10, sought to offer guidelines on treating transgender inmates in D.C. jails fairly. It does, however, insist on classifying inmates by genitalia, rather than identity.
The folks behind the D.C. Trans Coalition's efforts to regulate the handling transgender inmates include about 500 individuals who signed a petition since the March meeting.
"The primary issue is that right now when you go into D.C. jails, transgender people are basically classified on the basis on their genitalia and then are treated in a manner that's consistent with whatever general population housing unit they are put in," Toth says.
Before the March meeting, members of the Trans Coalition compiled a list of challenges transgender inmates often face, including lack of representation, strip searches in front of other inmates and mandatory "protective custody."
"What protective custody really means is 23-hour isolation," says Toth, adding that the Trans Coalition is supportive of those who would choose to be segregated from the general population, as punitive as that option may seem.
Despite the DOC's efforts at parity with the May guidelines, Toth says the Trans Coalition's March demands did not appear to have much impact.
The D.C. Trans Coalition's list of demands includes access to clothing and cosmetics appropriate to an inmate's gender identity; access to medical treatment, including hormone therapy; inmates being addressed by gender-appropriate pronouns; privacy during strip searches; a record of injuries or assaults against transgender inmates; and ongoing sensitivity training for DOC officers.
"Ultimately, it came down to the DOC saying they felt like their policies were consistent with the Human Rights Code and that they need to maintain gender-segregated prisons or else it would challenge the safety, order and security of D.C. jails."
Refusing to take no for an answer, the D.C. Trans Coalition launched a petition campaign, "Letting people who aren't directly affected by these issues know why this is a problem, and what it is that has to change," Toth says.
"We perceived a fairly hostile response to what it is that we were putting forward," Toth adds. "[Members of DOC] were being clear that their primary issue is safety, order and security of the prisons, and we understand that, but our concern is that trans people are not safe in D.C. jails right now."
Adding fuel to the fire, local trans activist Jeri Hughes has filed an official complaint against the May memo with the D.C. Office of Human Rights.
The memorandum states, in part: "DOC shall classify an inmate who has male genitals as a male and one who has female genitals as a female, regardless of the individual's gender expression." The memorandum adds that accommodations will be made, however, to respect gender expression by providing appropriate undergarments and hormone therapy, among other services.
Three days after the May 10 document was written, Peter J. Nickles, interim attorney general, wrote that the memorandum was "promulgated by DOC after extensive consultation with the Office of Human Rights, the Office of LGBT Affairs," and is "consistent and compliant with the District's human rights laws and regulations."
Hughes took issue with the language used in the memorandum, which she described as "offensive."
Toth agrees with that assessment.
"What they are proposing is actually in some cases worse than what's usual right now," Toth says.
"Because in addition to saying everybody is housed according to their genitals, it goes on to say that trans people will be put in protective custody, and they will have to be subjected to a medical examination. If they don't, they will be put in a holding cell and a supervisor will be notified immediately."
Toth adds that a guideline within the memo that instructs DOC personnel to refer to inmates by last names rather than any gender-specific pronouns or titles is specious.
"I sincerely doubt that they will succeed in never using a pronoun for any inmate in D.C. jails. I would say that's giving the wink and the nod to everybody that they really don't have to respect anybody."
Beverly Young, public information officer for DOC, referred all questions about the upcoming July 15 meeting and the guidelines memo to the Mayor's Office of LGBT Affairs.
Christopher Dyer, director of the Office of LGBT Affairs, says the goal of the July 15 meeting is to provide the D.C. Trans Coalition with an opportunity to discuss their concerns with the memo, as well as to allow the DOC to "communicate how this policy addresses most of [the D.C. Trans Coalition's] initial concerns."
Dyer adds that he thinks the DOC is "open" to making changes to the guidelines' language to make them more sensitive to the concerns of transgender activists.
"It is important to note that the DOC is already in the process of identifying some mental-health clinicians to help DOC better evaluate the needs of transgender inmates," he says, "and that they are open to continuing to work with the community to ensure their training is appropriate."