Long ago, when airlines — and fares — were heavily regulated, one of the most straightforward ways for airlines to compete against one another was with service perks. Maybe you'll announce that you're serving steaks in coach. Or go all out like TWA and offer themed trans-Atlantic flights in four flavors: Roman toga, British pub wench, Manhattan penthouse or French miniskirt.
While those days are long gone, there is at least one travel realm where the principle remains: cruises. In particular, gay cruises. Consider that whether you buy that cruise directly through Atlantis or RSVP (now one in the same) or Olivia, or through a travel agent, in most cases, the price is the same. As a result, travel agencies will compete with one another by offering value-added bonuses for their clients.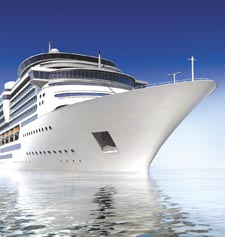 "You don't need to have an agent, but the agent can make the cruise a better experience," says John, a D.C. local, who with his partner is preparing for his fourth gay cruise come February. "The first year, we used a small agent here in D.C. I didn't notice any perks whatsoever."
By the second year, he and his partner noticed that one particular travel agency was playing host to a notorious — and private — onboard leather party. And they wanted in (hence the request to withhold his last name here).
"Anyone can call [RSVP or Atlantis Events] and book direct," explains BJ Smith, manager of Concierge Travel in Houston, one of the major bookers of RSVP cruises. "But when you call us, you get a customer experience that's unsurpassed." You also get an invitation to that infamous leather party.
Sibley Biederman, vice president of Cincinnati's Dan Howell Travel, another big player in the gay-cruise business, agrees with Smith that while the right agent may cost nothing more, there is a world of perks awaiting.
"The price is exactly the same when they book though us," says Biederman, comparing Dan Howell services to RSVP or Atlantis direct bookings. "But we also offer a cocktail party on the ship. Our newest, most valuable service is private shore excursions."
An important question to ask when screening agents, all agree, is whether someone from that travel agency will be onboard your particular cruise. An agency representative can act as intermediary should you have any problems while on board. Even on land, John says Concierge was able to secure a discount for him and his partner on a future sailing after a cruise they were booked on began offering steeply discounted, last-minute fares. He says he doubts an agency with less clout, in his case with RSVP, could have done the same.
Another question for a potential agency may be what sort of accommodations they can secure in your departure port. For example, if you're sailing out of Miami in winter, hoping for one night in town before setting sail, you may be faced with a high-season, three-night minimum. Biederman and Smith both confirm that they secure blocks of rooms with local hotels for their clients, making the minimum-stay requirement a moot point.
"The crux of using a good agent is that it adds value," John concludes. "It adds to the experience."
And when aisle seats and pillows come with price tags, finding added value from your travel agent is that much sweeter.