In high school, there were two ways to get out of reading a literature assignment — watch the movie or get the CliffsNotes. For students tasked with reading Evelyn Waugh's 1945 novel, Brideshead Revisited, watching the movie meant committing to an 11-hour miniseries. Now a CliffsNotes version of the miniseries exists for those trying to take the really easy way out.
Director Julian Jarrold has trimmed Waugh's novel down to the bare necessities. He ensures that the story still ties together as a whole, but sacrifices a smooth, flowing storyline in the interest of brevity (relatively speaking, since the film still clocks in at over two hours). What you're left with is several moments that are just that — moments. It's the difference between looking at a still taken from a film and watching the entire film. Jarrold deserves credit for creating a final product that still manages to create a slow burn that gradually turns up the heat, but never manages to ignite a flame.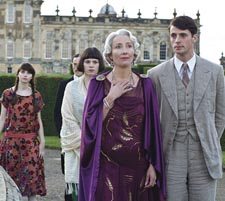 Emma Thompson [center] with cast of 'Brideshead Revisited'
Set in Britain more than a decade before World War II, Brideshead Revisited is about class, ambition and love. When it comes to love, it's represented in all its many facets — love of God, love of family, love of self, and the love that dare not speak its name.
Charles Ryder (Matthew Goode) is in his first year at university when he's quickly taken under the wing of Lord Sebastian Flyte (Ben Whishaw). Despite Sebastian's initial claim that he wants to keep Charles away from his relatives, his desire to have Charles close overpowers his better judgment and he pays the price for bringing Charles into the family fold. Naturally, accustomed to a lower station in life, Charles welcomes his newfound glamorous lifestyle and is quickly besotted with Sebastian's sister, Julia (Hayley Atwell). However, even more tantalizing is the family mansion, the famed Brideshead. And this makes Charles a size queen, because Brideshead is enormous!
The sexual tension that plays out between Charles and Sebastian is about as overt (and frustrating) as possible. While there is nothing ambiguous about Sebastian, played with flamboyance by Whishaw, Charles is more of an enigma. It must be a phase for Charles, though, because by the film's mid-point the gay themes all but disappear for relationships more complex than schoolboy crushes.
Ruling over Brideshead and essentially emasculating all who walk through its doors, is the Flyte matriarch, Lady Marchmain (Emma Thompson), who could make Joan Crawford look like June Cleaver. In a wonderfully polite British manner, Lady Marchmain can lash a man with her tongue and tear him down in seconds. Watching Thompson in this role is utterly delightful. Sporting a gray helmet of hair, Thompson works the queen look and carries it off with aplomb.
It's hard to act alongside the big shadow that Thompson casts, but Goode ably carries the weight of the film. Charles' motivations, and whether he's playing the family or the family is playing him, is an ambiguous question in the film and provides plenty of potential discussion for afterward. (It's a good date movie for that reason.) Goode is solid, and though he relies on the wide-eyed stare a little too much, he's definitely making a name for himself.
BRIDESHEAD REVISITED

Starring Matthew Goode, Emma Thompson, Michael Gambon
PG-13
133 Minutes
Area Theaters
As the Flyte children, Whishaw and Atwell do a fine job as the somewhat creepy products of a privileged family, and both actors make a smooth transition from worldly and entitled to utterly lost. Whishaw flounces through the first half of the film, but his performance is much more enjoyable when Sebastian's demons take over. Atwell is a little bland as Julia, but that's not uncommon for British fare.
It's the shots of Brideshead that are among the film's most amazing components — lush rolling lawns, fountains spouting water, grand halls filled with paintings. It's a character unto itself in the film, acting as a cage for some and the ultimate prize for others.
While Jarrold creates a fine adaptation of Waugh's novel, it is more of a tease than a perfect abridgement. He hints at plots with such complexity and worlds with so much potential, it makes you wonder what of Waugh's world was lost. It's a good start, but thank goodness there's more out there that ensures another, longer visit to Brideshead is possible.