"I'm from a land called secret Estonia, nobody knows where it's at," Kerli Koiv raps repeatedly on "Creepshow," a blistering track off her new debut album. At least everyone knows this singer-songwriter's chosen language of pop-rock music. Björk is the only artist Kerli — who goes only by her first name — cites as an influence. The 21-year-old says she wasn't exposed to much Western pop growing up in the northernmost reaches of Europe. Others have compared her to Swedish dance-pop-tart Robyn or hard-rocker Amy Lee of Evanescence. With her shaky yet supple voice, and her dark sensibility, you also can't help but hear the influence of Alanis Morissette.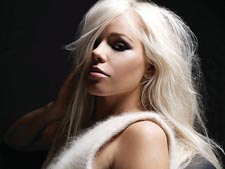 Kerli Koiv
Though it is dark, Kerli's music is not nearly as heavy as you might expect from someone who grew up in a cold, formerly communist country, not to mention those previous comparisons. The gorgeous album cover art and packaging is indicative of what you'll find here: There's a sadness expressed in the drawn doll's pretty, pale face, with black crows crying and flying in the background, and shades of blue serving as just about the only color other than black and white. There's something sweet and charming about the image that makes you want to explore her mysterious world.
Kerli's first single "Walking on Air" features a bright chorus and lyrics offering sweet, optimistic thoughts. "Feel it, breathe it, believe it, and you'll be walking on air," she sings. But the verses are more grounded and disturbed, and provide some insight into her background. "There's a little creepy house, in a little creepy place," Kerli sings of her childhood. "Little creepy girl, oh she loves to sing." In promoting her album, Kerli has said she felt stifled creatively growing up. It wasn't until she got involved in a Eurovision-related competition some seven years ago and then eventually got connected to major-label talent scouts that she started to blossom as a songwriter.
She's still got a ways to go, though. You might dismiss Love Is Dead as unoriginal, formulaic synth-pop, especially upon first hearing. It's better than the secretly pleasing pop we heard years ago from the Russian duo t.A.T.u., certainly, but not nearly as creative as, say, Robyn. The album kicks off with the title track, whose dark lyrics ricochet off music of loud strings about to snap and explode in an orgy of excess.
Kerli
Love Is Dead
Island Def Jam

But the more you listen, the more you take to Kerli's music. Despite heavy pop production — including from a man whose credits include former N'Sync'er JC Chasez — which tries to make it sound exactly like everything else you hear on the radio, Love Is Dead retains enough distinctiveness, enough edge, to give you promise. Perhaps Kerli will have greater creative control over her future output. There's something appealing about pinning hopes on someone with more potential than popularity.
"This is an old and funny poem, I accidentally overheard," Kerli sings as she launches into her sweet, stomping song "The Creationist," produced by Robbie Williams' main man, Guy Chambers. "Life is my creation, is my best friend…. I'll keep walking when skies are grey, whatever happens, was meant that way." Here's hoping the skies only get bluer as she goes.
Advertisement

| | | |
| --- | --- | --- |
| Delta Goodrem | Jennifer Hudson | Kerli |
---
Delta Goodrem
Delta
Mercury Records/Decca

Delta Goodrem is one of Australia's biggest artists, and she now has her sights set on conquering America. Her music is custom-made for our Idol-era, and in fact, one of her songs apparently factored into an episode on last year's American Idol. But forget Kelly Clarkson. Or her Australian foremothers: Kylie Minogue or her "hero" Olivia Newton John. Goodrem, 23, actually comes across as a weaker, paler version of Canada's Celine Dion. She actually wrote the best song, "Eyes on Me," from Dion's 2007 album, Taking Chances. Goodrem certainly has less of a voice than Dion. She pushes it to its limits at several points on her new American debut, Delta, straining to hit notes slightly higher than her natural register, or forcing it so much she ends up screaming more than singing.
The song "Woman" is Dion through and through, with a dramatic key change to finish out the final chorus that is so predictable, you'll either be sighing with disgust or laughing hysterically. What you won't be doing is listening to Goodrem as she pleads for attention ostensibly from her man, though the whole world is culpable.
Lead single "Believe Again" is as dramatic, as cinematic, as pop can get, perfect for next year's Idol, or Oprah. "I believe the impossible is possible to overcome," Goodrem and her backing chorus sing in the song's bridge. "I believe in the miracles born from love in everyone." It's actually the best song on the album. So much better than most of the other tracks here, it's no wonder it kicks off the whole shebang. More typical is "Born to Try." Here, Goodrem falters and resorts to screaming the final notes at the end in the same way that too many aspiring Idolettes have done before her.
Better to die trying than never to try at all, you might say. But this really tries a listener's patience.
From YouTube: