As curious onlookers passed, in the early evening of Sunday, Aug. 24, a crowd of about 40 people sang as they held hands in a circle around Gen. John A. Logan's statue at Logan Circle.
"All You Need Is Love," they sang as passerby pondered the scene. But to those who knew what happened a few blocks away a couple weeks earlier, it all made perfect sense. What those in the hand-holding circle knew was that two of their fellow singers had been beaten by strangers a block away in the early hours of Sunday, Aug. 10.
Michael Roike, 24, one of the victims in that attack, handed out fliers to curious onlookers, informing them of what transpired.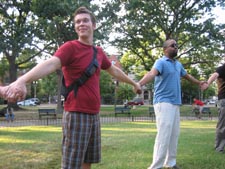 Roike and Burrell
As Roike tells it, he was winding down his evening Saturday, Aug. 9, at Playbill Café, 1409 14th St. NW, following an earlier party elsewhere. Finding Roike at Playbill is not out of the ordinary, as he works there as a bartender. That night, however, he was on his own time, simply socializing.
"We had a few drinks and whatnot, and we headed over to Playbill to do a 'last call' round of shots and to hang out and see some people that we knew there," he says.
Stepping outside for cigarettes after a final round of shots, Roike and three friends noticed an SUV parked in front of Yum's Carryout, located next door to Playbill Café. That SUV carried a small group, Roike says, who were picking up an order from Yum's.
"There's always people waiting for food, and we didn't think anything about it," he says. "We were all sort of drinking a bit, joking with the guys at first. … They were like, 'Oh, you guys were drinking,' and we were all laughing, sort of having a good time. But they just kept sort of using the word 'faggot.'
"My friend, Chris [Burrell], just sort of got sick of it and at one point he goes, 'Really, you guys, can you just sort of leave us alone? Get in your car. Just stop using that word. Why are you trying to start something?"'
Stevon-Christophe Burrell, 29, is a publications assistant at the International Food Policy Research Institute. Both Burrell and Roike are District residents.
As a male from the other group then approached Burrell, Roike says he stepped between them and tried to diffuse the situation.
"I sort of stepped in between this guy and Chris to say, 'Dude, we don't want any problems.' I didn't even get the sentence out of my mouth. The next thing I know, there's like this blinding pain in the left side of my head, and I hit the ground."
Roike says that as he lay on the pavement, he could feel blood running down his face. The next thing he remembers is watching Burrell hit the ground, too.
"Then the guys go tearing off," says Roike.
The Metropolitan Police Department report lists the attack as a "simple assault," filing it as a hate crime based on sexual orientation.
According the Gay and Lesbian Liaison Unit of the Washington Metropolitan Police Department, there are two suspects. Both are listed as black males. One is described as being in his 20s, about 5 feet and 9 inches tall, 185 pounds, and a dark complexion. He was reportedly wearing a black shirt and olive-colored pants.
There is no further description for the second suspect.
Burrell, speaking with Metro Weekly, added that the suspects were wearing nice, casual clothing, as though they'd been out to a nightclub.
Roike says that the Third District MPD officers who arrived first on the scene questioned the driver of the car in which the suspects had arrived, then cleared him as having no prior relationship with the suspects.
Officer Zunnobia Hakir of the GLLU says, however, that that while the MPD are on the lookout for the two suspects, they are also on the lookout for the vehicle on the scene, listed as a white Infiniti with a Connecticut license plate, 542 WOY.
Neither Hakir nor Acting Lt. Brett Parson, head of the MPD's liaison units, say they have any information indicating that officers of the Third District spoke with the driver of the vehicle.
As of early Wednesday, Aug. 27, Metro Weekly was unable to obtain clarification from either the Third District or MPD headquarters.
Roike says the GLLU officers arrived on the scene separately and took photographs of both Burrell's and his injuries.
Suffering a black eye from the blow to his face, along with other injuries from hitting the ground, Roike says the attack has left him angry.
"I'm definitely not afraid. I'm pissed that stuff like this still happens. It definitely could have been a lot worse, but just the fact that it happened just sort of blows your mind in this day and age, especially in that part of the neighborhood. It just makes me question humanity."
Burrell, who was hit in his jaw, says he continues to feel apprehensive in public areas.
"It really makes you think about what's going on in the world and in your neighborhood," he says. "It really brings you out of the clouds.
"I still think about strangers, people around me, or feeling kind of threatened if I'm not sure who's around. I kind of just stay around the house more now, and not stay out very late."
Roike says he began planning the "Circle of Love" rally Aug. 11 — just a day after the attack — to help raise awareness that hate crimes can happen to anyone, anytime. He posted an event invitation on the social networking Web site Facebook, which he says resulted in a "huge" response.
"We're trying to do everything we can think of to get people informed [about hate crimes]. We're just hoping that people take the information and, if they are interested, sign up with Human Rights Campaign. HRC is really good about keeping us safe and doing things to make us aware. I want [people] to join the Matthew Shepard Foundation because there's so much information and so many good things around the country, and the world."
Burrell says he was surprised and pleased by Sunday's turnout.
"A lot of people came out — more than I expected — and it just made a huge statement that was translated through the people holding hands around Logan Circle.
"It was about unity, togetherness and everyone being different, yet still the same."
Roike's boyfriend, Dustin Cole, commissioner representing Advisory Neighborhood Commission 2F05, has invited Roike and Burrell to speak at a future meeting.
For those who find themselves in similar situations, Roike says, simply walk away.
"I don't want to say to not say anything, because I do feel like we need to stand up. But I don't feel like standing up to some guy at 3 in the morning outside of some bar is necessarily the right way. I think joining a cause or starting a coalition or just making people aware is how you fight back."
Anyone who has any information about this attack is asked to call the GLLU pager number at 1-877-495-5995.
Will O'Bryan contributed to this report.