When John Flowers and his partner, David Muller, bought a small row house near Dupont Circle, the roof was one of the first projects they decided to tackle. They say they had no idea at the time, but they were about to start a three-month process that would leave their home more beautiful, energy efficient and eco friendly.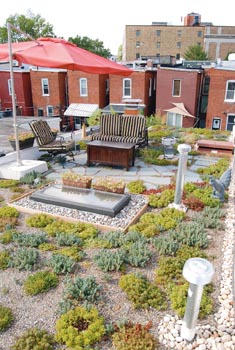 Flowers says he wasn't overly interested in green initiatives in the past, but after reading an article about a growing number of "green roofs" sprouting up around D.C., he had to know more.
D.C. Greenworks was his first and last stop. The non-profit, green-roofing organization provided the pair with resources and information, including the advantages of installing a green roof, the estimated financial commitment and the structural requirements.
In a nutshell, a green roof is an alternative to conventional roofing, replacing wood and tar — or similar, commonplace roofing materials — with a lightweight, low-maintenance roof, which is then landscaped with in a style more common to a backyard plot of earth.
The advantages of such a roof plentiful, but there were a few particularly important factors that led to the couple's decision, Flowers says.
Like many D.C. residents, creating space was their No. 1 concern.
"It didn't cost much more than a regular roof deck", says Flowers, pointing to the relatively reasonable cost as a selling point. "Plus, the roof will last twice as long and cut down on energy costs".
Some other factors included noise reduction and a green roof's ability to keep their home cooler during the summer. Sweetening the deal, most cities now offer tax incentives or credits for homes with green roofs.
Beyond the personal or the pocketbook, green roofs also help the environment. The soil absorbs rain, allowing it to evaporate, which reduces storm-water run off. Also, green roofs reduce the "Urban Heat-Island Effect," meaning the way in which conventional roofs may absorb the sun's rays, adding to the overall temperature of an urban area.
Plus, it just looks good.
"We go and sit up there almost every day", said Flowers. "We have planted a wide variety of Midwestern plants that adapt well to a hot, city environment."
Flowers and Muller grant, however, that the process isn't always easy. When dealing with older homes, for example, costly structural requirements can come out of nowhere. More than adding to the price tag, those structural surprises may also add days of labor to the project.
"It was the middle of January and we had no roof!" Flowers says with a laugh.
The basic construction was expected to take three days, but ended up taking three weeks.
"There was one night where it was windy and rainy and we ended up having to call the contractor," Flowers says, recalling the vulnerability of being semi-exposed to that same Mother Nature the two were working to welcome to their rooftop.
Despite the somewhat stressful construction, the financial process was remarkably simple. D.C. Greenworks took care of contracting the construction crew, designing the actual deck and acquiring all the necessary permits.
Flowers and Muller say they couldn't be happier with their green roof. Since its completion in March, they've reaped the benefits, from a cooler summer to a soothing spot for relaxation.
"It's required very little maintenance", says Flowers. "I watered it once [to be photographed], but mostly all the work finished with construction."
For more information about green roofs, visit www.dcgreenworks.org.