Washingtonians have known about the DC Cowboys long before they earned a spot among the top 40 contestants on the third season of NBC's America's Got Talent, on which they are still competing. But regardless of any past familiarity with the Cowboys, the local gay dance troupe recently made themselves more accessible than ever, thanks to the group's newly released 2009 calendar and DVD combo, Wet & Wild.
"I think it's riskier," says Kevin Platte, artistic and executive director of the DC Cowboys, who founded the group in 1994, speaking about the group's fourth calendar. It's also their first in color.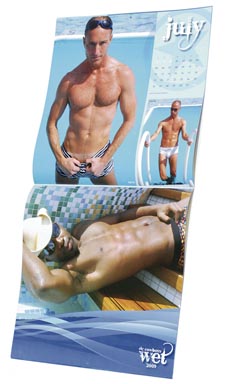 "We're showing a lot more nudity, but doing it artistically."
The calendar features 36 photographs taken by Metro Weekly freelance photographer Ward Morrison on a nudist beach on the French side of St. Maarten, and locally at a bed and breakfast in Dupont Circle.
Platte says being on America's Got Talent didn't add any hesitation to releasing the risqué calendar, the photographs for which range from slightly cheeky to nearly full-frontal.
"We're kind of hoping being on America's Got Talent will help us sell these calendars even faster," he says, "because it's for a good cause."
Half of the proceeds will benefit the Paul Malerba Foundation, which provides financial assistance to not-for-profit organizations that offer services to people living with HIV/AIDS, including the Northern Virginia AIDS Ministry (NOVAM) and Whitman-Walker Clinic.
"It was a good fit," Platte says. "It allowed them to kind of increase their awareness about the foundation through this calendar project, and gave us an opportunity to help a different organization that helps existing organizations."
Last year, the DC Cowboys donated half of the proceeds from the 2007 calendar — a donation of $11,000 — to the Whitman-Walker Clinic.
Planning for the latest calendar goes all the way back to 2007, with the DC Cowboys carving out time from their entertainment schedule on RSVP's gay, 2007 Caribbean cruise to shoot this new offering.
"This was kind of giving a whole different perspective of the cowboy style in a tropical setting. It's a nice juxtaposition of elements," says Platte.
The calendar, titled "Wet," along with the "making of" DVD, "Wild," is available online at www.dccowboys.org, and at upcoming DC Cowboys events. The cost is $20.
From YouTube: DC Cowboys on 'America's Got Talent'
From YouTube: DC Cowboys, 'Making of 2009 Calendar'