Advances in technology are often heralded as labor-saving enhancements of our way of life. Yet the technology often seems to simply create avenues for even more labor. Be that as it may, with a partner, a day job and two young sons in Chevy Chase, Md., Terrance Heath has embraced the new and carved out a blogging niche of his own during his spare time, despite his claim that "somebody in my house always needs something."
Without the advent of the Web, Heath likely wouldn't have to make time in his schedule for blogging on his site, The Republic of T. Then again, he probably wouldn't be able to leave as big a mark on the world, either.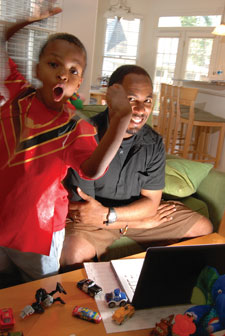 Terrance Heath
"I don't consider myself a reporter or journalist," he says. "I'm not going out and breaking stories or interviewing people. If I had the time and resources, maybe I would. What I do — what a lot of people do — is take things happening in the news in areas we're looking at, that wouldn't otherwise get national prominence or widespread reading, and amplify them."
Heath cites the example of Zach Stark, a gay Tennessee teen sent by his parents to an "ex-gay" camp in 2005 and who wrote about the experience on his MySpace page.
"Because of my experience coming out at an early age, I posted [Stark's story] on my blog," Heath recalls. "I looked around and saw there were about half a dozen [bloggers] who'd done the same thing."
While Heath says those bloggers weren't "A-listers with 100,000 readers," the story gathered steam, still more picked it up, and commenters on his site were asking what they could do.
"The next thing I know, the story is in the New York Times," he says. "Nobody would've heard about this story before new media came into existence, unless one reporter picked it up and convinced an editor to cover it. Today, it just takes someone with time and an Internet connection to decide that, yes, this story needs attention. That's what's changed in terms of the kinds of stories that become news now."
While Heath finds the time to write about politics, his family, or nearly any other topic that suits his associative way of thinking — linking, say, a book to an election to a bedtime story — for his blog and several others, he does note that there are many others who've not enjoyed the same opportunity for an amplified voice. Diversity, he says, still lags online.
"In terms of blogging, you have to have knowledge of the technology, access to it, and leisure time. That goes into some economic, class issues," he says. "It's becoming more diverse, but there's still a ways to go. If your main concern is a roof over your head and food on the table, you're probably not going to spend a lot of time reading blog posts. If I didn't have the educational background/economic status I have, I wouldn't be blogging."
Heath seems hopeful for the future, though. He may not point to today's blogosphere as any sort of utopia, but he does nearly limitless boundaries over the horizon.
"There is a huge potential for everyone to be heard, to amplify their voice, to join the voices of others."
Visit Terrance Heath online at his blog, www.republicoft.com.