Just beyond the western reach of I-66, Lou Costanza and his partner, Mike O'Brien, have built themselves a bit of heaven — emphasis on "built."
"We used to camp out with no electricity or running water," Costanza says of the three-year project that found the Dupont-area couple spending weekends on the 20-acre site, housed in the frame of what would become their rural escape.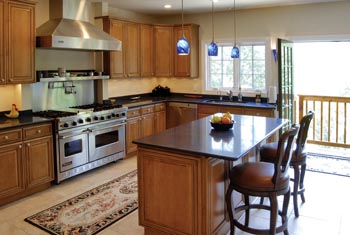 "We built it over the last three and a half years," says Costanza. "The entire thing was a process. We did all of the finishing ourselves."
From an initial sketch on a napkin to more than 5,000 square feet of architectural splendor in Star Tannery, Va., Costanza insists the finished project is entirely worth the years-long effort — including the 12 hours spent hauling slate tile up to the building site after a delivery driver deemed the road to their home unfit for his truck.
"That tile weighed 7,000 pounds," Costanza recalls, vividly. "They dumped it all on the ground, four palates you could not possibly lift."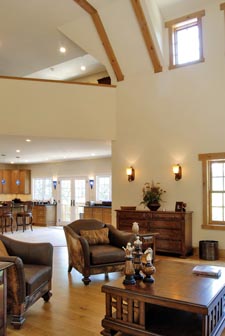 That tile, from Ann Sacks, now covers the floor of one of their home's comfortable and welcoming features: a screening/game room, complete with theater loungers, dartboard and bar. With an eye to entertaining, however, Costanza and O'Brien incorporated more than movies to keep guests happy. Outside, for example, they built a sort of pavilion.
"We call that the party deck," Costanza says of the screened and elevated 600 square feet of refined outdoor space. "It has electricity, and a fire pit in the center."
Costanza's real pride and joy, however, is back inside the three-bedroom, four-full-bath home.
"The kitchen is the centerpiece," he says. "I'm Italian, so I love to cook. I love to cook for our guests and to have every amenity available. The range in the main kitchen is a Viking with a double oven, [one] convection, six burners, a griddle and a warming shelf." The Sub-Zero refrigerator is also right at home.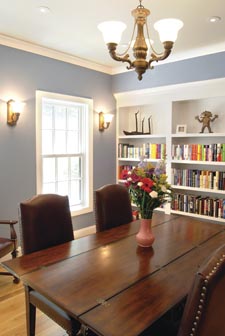 For his dearest guests — his parents, who spend most of the year in Florida — Costanza offers more than his cooking. He built them a guest apartment.
"They absolutely love it," he shares. "It's self-contained with a full kitchen, its own laundry."
Aside from family, O'Brien and Costanza also share their bucolic hillside with friends from D.C., Jim Friesen and Mike Mancuso, who own an adjacent plot. Their assistance during building was invaluable, Costanza readily admits, crediting the couple with holding his hand through more than one mishap during construction. The quid pro quo is that Costanza and O'Brien chose to build their house at a spot on their property that doesn't block the other couple's view.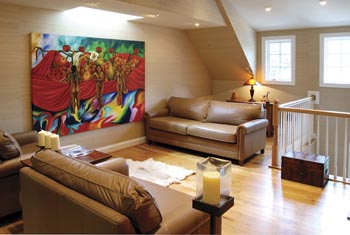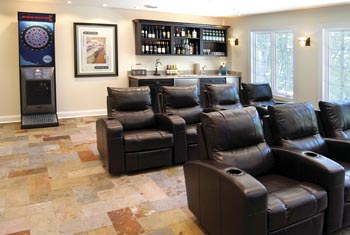 And while that friendship may have been strengthened by this ambitious adventure, other bonds were strengthened too. With a project lasting more than three years, most couples would likely find endless opportunity to bicker themselves into early graves — or, at least, bed death. For Costanza and O'Brien, however, that was apparently not the case.
"What was interesting was that we've been together for 19 years," says Costanza. "This was the first time where we were really in sync on a project. I think it brought us closer together."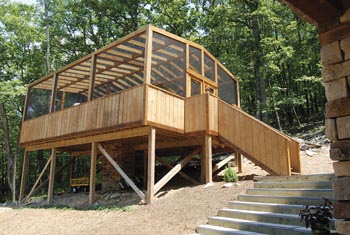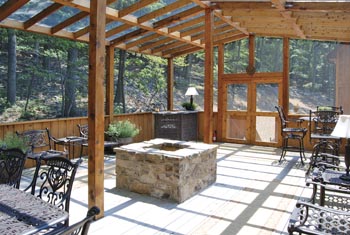 That's not to say building a country home from scratch was completely friction-free.
"We hired people for the framing and roofing, but nobody is in a rush to do anything out there," Costanza observes. "They take time off for the first day of hunting season. … They weren't used to the finishes we chose. But if you're going to work on my house, it's got to be prefect."