In middle school, Javier Morgado was obsessed with local TV news.
"I remember watching [it] in the afternoon and being completely obsessed with how it was written and how it was formatted," says the 30-year-old Miami native, born to Cuban parents. "I knew growing up as a kid, pretty young, that I wanted to do this."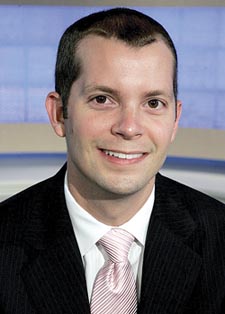 Javier Morgado
By his early 20s, Morgado was working as an assignment manager for the local NBC station in Miami, tracing the Florida ties of the terrorists behind the Sept. 11 attacks. Near the end of 2001, that work translated into an offer to move to New York as the assignment editor of the NBC News Network Desk.
"The funny thing is I'm the kind of guy that always thought that for the rest of my life I would stay [in Florida], because that's what Hispanic people do — they tend to stick together," he says. "But I got this amazing job opportunity right after 9/11 to come up [to New York]. Guess what? I've been here seven years since, and I have never looked back on it and never regretted it. It's been an amazing ride."
Morgado currently works as the supervising producer of NBC's The Today Show, and is responsible for overseeing news and assignments. Working 12-hour days, Sunday through Thursday, doesn't leave Morgado with much free time. Yet he somehow manages to play an active role in various journalism organizations, including NLGJA and the National Association of Hispanic Journalists (NAHJ). He's been a member of NLGJA for five years and has served as a board member for two.
"I basically head up their biggest fundraiser each year, which generally raises $150,000 in one night," he says of the annual New York event. "I love doing it. It's sort of a big star-studded night, where people pay [to] meet all the big A-listers in the TV business."
For Morgado, one of the highlights of the upcoming NLGJA convention in Washington is the Student Project. This year, 20 college students from 15 states will take part in the mentorship program that teams them with GLBT journalists working across various media.
"A lot of our members and board members are part of that project, fostering better relationships for [GLBT college students], being a contact that they can call as they go into their careers, because it is getting harder to jump into this business," he says. "It has nothing to do with being gay or not. It's just the economy is in a real bad position right now, so it's really hard to get into our business if you're coming right out of school."
Throughout his career, Morgado says he hasn't faced any issues about being openly gay at work.
"My theory is if you walk in saying who you are and continue about your daily business, it's not an issue. People that have a harder time coming out and saying who they are face an uphill battle, because all of a sudden it's a surprise to people."