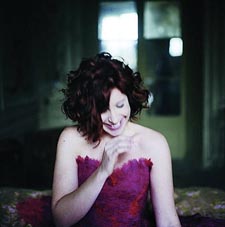 Robin McKelle
Remember "Abracadabra"? The Steve Miller Band's '80s hit was good cheesy pop, but it was less magic trick than novelty act. If you ever expected to hear it again, you wouldn't expect it as a swinging jazz tune from a female singer. But there it is, launching Robin McKelle's just-released new album.
You'll be grabbed from the start of Modern Antique, a winning jazz collection that works its own kind of magic throughout, from her covers of jazz standards popularized by McKelle's clear influences, especially Ella Fitzgerald and Sarah Vaughan, to one original ballad that sweetly closes out the set. And then there's that pop cover. The horns add special energy to "Abracadabra," and McKelle sings with a verve that Miller's robotic-esque voice lacked.
Based in Boston, McKelle views herself as more of an R&B singer, and apparently only recorded her debut album, 2006's Introducing Robin McKelle, as a jazz set at the urging of producer Willie Murillo. The idea then was to create a concept album that transported the listener to a different time and place — specifically the big-band swing era of the 1930s and 1940s. Modern Antique does this as well, though, as its title suggests, it's not stuck in the past. The set offers one timeless-sounding treasure after another.
ROBIN MCKELLE
Modern Antique
Cheap Lullaby Records

McKelle has an expressive alto very similar to Ella Fitzgerald's or Anita O'Day's, though McKelle's voice is more reedy than brassy, and she's far from a showboater. You might think of her as a more-refined Bette Midler. McKelle takes a light touch to singing, letting the piano, strings, brass and bass take center stage. And she's a modest singer who only powers her impressive voice to full throttle at measured moments, when it's critical to convey a lyrical sentiment. Her voice cracks as she cries out the titular phrases of the songs "I Want to Be Loved" and "Save Your Love for Me." Other times, she reaches full throttle only after repeated provocation by the band. Every time after the first iteration that she sings the word "hell" in the song "Go to Hell," the horns ratchet up the heat, blaring an increasingly loud, syncopated note in unison. By the time she reaches the end, the song is no longer the sweet-nothing it sounded like at first. It becomes as brittle as the lyrics are bitter — and fantastically captivating. Nina Simone, the song's author, would be proud.
Modern Antique ends sweetly with "Remember," an original song written by the artist. It's a sweet soft-pop ballad in the manner of Diane Warren, though with less bombast or bloated sincerity. "Can't believe you're not here. Now who's going to wipe away the tears from my eyes when I cry?" she sings, in a sorrowful manner that moves you. It's the McKelle way.
Judith Owen opens what is effectively her eighth album with a similarly sweet soft-pop ballad that moves you. Owen is asking for forgiveness on "Creatures of Habit," recognizing that while people don't often change, at least their attitudes can.
The song itself, produced by the legendary Glen Ballard, doesn't appear to have changed much since it was written a decade ago. Ballard worked with Owen a decade ago on her debut album, from which all of Mopping Up Karma actually derives. That debut, Emotions on a Postcard, was never released by Capitol Records, getting tied up with management changes. Mopping Up Karma is a re-recording of that debut's original tracks, and it is clearly Owen's way of seeking some karmic comeuppance from label negligence.
The title comes from the torchy "Who's That Girl," about a woman who plays with fire and gets burned. "And she was a girl who loved drama, but today she's just mopping up karma," Owen sings, in a song that simmers as much as a result of evocative lyrics as from its upright bass plucks.
JUDITH OWEN
Mopping Up Karma
Courgette Records

Unfortunately, much of the album sounds exactly like what you'd expect from an album made a decade ago, and especially made with a producer who created many of the songs that come to mind when you think of those from the late 1980s into the 1990s, from Alanis Morissette to Michael Jackson to Paula Abdul. That doesn't mean you won't enjoy some of them. In its own way, it's a trip down nostalgia lane much as McKelle's set.
On "She's Alright," Owen dates the song by using a vocoder in the bridge. Then again, that vocal trick popularized by Cher a decade ago is perfect for a song about our culture's fascination with faddish beauty and fleeting happiness. "She's living for the moment," Owen sings. "As long as she looks good today, then she's alright, yeah she's okay." And so she is.
From YouTube: Robin McKelle, 'Abracadabra'