"Gay men are icky and that's what our audience would think."
At least, that's the response Jen Christensen, 36, says she got from a former editor in Charlotte, N.C., after suggesting a story about the Red Cross' ban on gay men donating blood in the aftermath of the Sept. 11, 2001, terrorist attacks.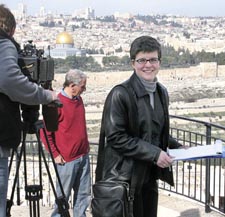 Jen Christensen
"I worked out my contract and did a good job and didn't really talk about my life at work," the Chicago native says. "Which is really sad, because it's hard when you can't be who you are at work. I would have stayed there a lot longer, because I ran the investigative unit there and I really enjoyed my job. But it actually all worked out really well because I absolutely love where I work now."
Few in her shoes would complain.
Christensen currently works for CNN out of Atlanta as a producer for the network's documentary and investigative units, and says she is "totally and completely" out at work.
CNN is paying for Christensen to attend the NLGJA convention. The company has also encouraged her participation as an NLGJA board member.
"My company is great in that case," says Christensen. "I think it benefits CNN, too, to have diversity and high visibility in leadership positions supporting a journalist organization."
When speaking with Metro Weekly, Christensen was in her hometown, Chicago, working on a documentary about presumed Democratic presidential candidate, Sen. Barack Obama (Ill.).
"It's the best job I've ever had in my life," she says. "I get to travel the world, and interview Barack Obama. It's a dream."
Before landing her dream job at CNN, Christensen studied economics and foreign policy at the London School of Economics and Political Science. In 1994, she earned a bachelor's degree from Butler University in Indianapolis with a double major in TV/radio and history/political science, along with a minor in gender studies. In 1996, she attended her first NLGJA convention in Miami.
"I was intimidated," she says. "I'll admit it. It was a lot of big-name people, [yet] people were pretty friendly and were willing to talk to a kid from Indianapolis who had just started on her job, and I will always be grateful for that. It's so nice to be yourself with people who care about the same journalism issues that you care about."
To help make that possible for GLBT journalists and students who cannot afford the convention, Christensen works with the NLGJA's scholarship program, a committee that awards scholarships to help members pay for the convention. She also launched the mentorship program a few years ago.
"I developed it for the organization to pair up professionals in major markets with other professionals, be they mid-career or wanting to change from print to online or just to have someone outside of your office to talk about how to navigate office politics."
With the upcoming convention in Washington, Christensen says that while the areas she works on with NLGJA, such as mentoring, are a big part of the conclave, sometimes it's just about socializing.
"A lot of people get jobs and networking connections [at the conventions]," she says. "I haven't had a chance to get a job through NLJGA, but I've met girlfriends and lots of wonderful people in my life."
That includes Christensen's partner, Holly Crenshaw, an NLGJA member who works for the Atlanta Journal-Constitution. The pair met in 2000.
"She was the [NLGJA] Georgia-chapter president and I was the Kentucky-chapter president. We met at a leadership meeting," she says. "That's the whole reason I came down to Atlanta. It was to be with her. So you can find professional development, and love."