Humor is subjective. What strikes me as funny may not be funny to you. There are, however, plenty of crossover areas that make us all laugh together as one. And so it is in the best interest of a comedy filmmaker who wants to reach the largest possible audience to cast the widest possible net.
Ben Stiller — the comedically-gifted spawn of the legendary humor team Jerry Stiller and Anne Meara — has been casting wide for about two decades now. As an actor, his aggressive, any-way-but-subtle delivery has met with success in films like There's Something About Mary and Meet the Parents. But he's had a plethora of duds, as well — especially those movies on which he's served as a director (Zoolander flits to mind, and flits away just as quickly).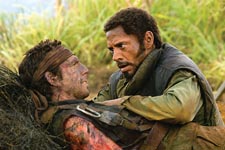 Ben Stiller and Robert Downey, Jr: 'Tropic Thunder'
I'm tickled to report, however, that Tropic Thunder, which Stiller directed and in which he also stars, isn't one of his missteps. It may very well be Stiller's solid-gold moment, and is without question the funniest, boldest, most original comedy he's been involved with to date. He has plenty of folks to graciously thank for it, including castmates Jack Black, Jay Baruchel, Nick Nolte and, especially, Robert Downey Jr., as well as co-writers Justin Theroux and Etan Cohen.
The story of the making of a Vietnam War movie gone profoundly, horribly wrong, Tropic Thunder aims its slings and arrows in the general direction of Hollywood, hitting one bullseye after another. It's a wacky, wonderful case of life imitating art masquerading as life pretending to be art. A dizzy-making experience on paper, to be sure. But on screen, it's comic nirvana — a wow, a wonder, a big fat hilarious whoopee cushion.
I hesitate to provide too many details about Tropic Thunder for fear of spoiling its richest moments. But you're probably already aware of the general premise involving a group of prima donna movie stars who, while filming a war epic in the jungles of Vietnam, are drawn into a real-life, hazardous situation, one they must face with prop guns loaded with blanks.
Tropic Thunder's narrative is endlessly inventive — it's impossible to guess where the story will head next — and its offensive humor is way off the charts (though it doesn't go as far as Team America or South Park). To its credit, Thunder manages to be an equal opportunity offender. Already the mentally challenged are crying foul over the repeated use of the term "retard." But the movie is cautious about what it's poking fun at here. For instance, it's not making fun of the mentally disabled, but aggrandizing actors who strive for Oscar glory by portraying such types (think Sean Penn in I Am Sam).
That's nothing when you consider the movie's real lightning rod of controversy: Downey's portrayal of Kirk Lazarus, a blue-eyed, blond-haired Australian method actor who has his skin darkened and affects an outmoded '70s "Blaxploitation" persona to play the film's tough-talking black sergeant. Lazarus is the kind of actor who refuses to break character "until the DVD commentary is finished."
What could have been shockingly wrong in so many ways is instead shockingly funny, a brilliantly executed gag — one that delivers a steady stream of payoffs, thanks to Downey's extraordinary, nuanced performance. He leaves his co-stars in the dust — and all struggle to keep up.
Lazarus is prone to such perplexing, meaningless declarations as "I don't read the script, the script reads me." At one gut-busting point he gives a dramatic soliloquy expressing his "black" character's eternal struggle. When someone points out he's reciting the theme song to The Jeffersons, he barks, "Doesn't make it any less true!" The real comic gems come as a result of Lazarus' interactions with African-American colleague Alpa Chino (Brandon T. Jackson), whose persistent outrage over Lazarus ("You're Australian! Be Australian!") serves as the movie's moral shield, allowing us the comfort to sit back, relax and have a good, hard laugh.
TROPIC THUNDER

Starring Ben Stiller, Robert Downey Jr.
Rated R
107 Minutes
Honestly, though, Tropic Thunder slashes at everything from heroin addicts to Vietnam Vets to bald, sweaty, overtly Jewish, foulmouthed Hollywood executives and does so with tongue so firmly and joyfully wedged in cheek, it would take a real sourpuss to be genuinely offended by it. But there are some people it will offend. And to them I say, go bask in some Happy Days reruns. To the rest of you: Go see Tropic Thunder and take delight in laughing until your sides split.
---
Like Stiller, producer Judd Apatow also casts a wide net — though the movies coming out of his factory are decidedly oddball affairs. They've even got a name for these slacker manscapades: Bromances.
Yes, Superbad was astonishing. Knocked Up, not bad. Forgetting Sarah Marshall, bleah. Pineapple Express, the latest addition to the Apatow film-shelf, falls in the middle. It's cut from classic stoner comedy cloth, but weirdly turns serious, morphing into a shoot-em-up action flick. It's not as funny as it might have been, but it's not an awful way to waste some time.
PINEAPPLE EXPRESS

Starring James Franco, Seth Rogen
Rated R
111 Minutes
Area Theaters
And that's due to James Franco's "charm the pants off us" performance as Saul, a sweet-tempered pot dealer with exceedingly strong gay inclinations (hence the Bromance factor). The normally beautiful Franco has been downgraded: his hair's a mottled, oily mess; his demeanor not quite in the here and now. And yet he steals every single scene he's in — no mean feat since he's yanking them away from capable co-star, burly and bearish Seth Rogen, who plays a client of Saul's who witnesses a murder and gets the pair into deep crapola.
Directed by David Gordon Green, Pineapple Express has a loose, light comic vibe, occasionally offset by some blazingly funny set-pieces, such as a car chase that finds Saul driving with his leg jammed through a police cruiser's dashboard. But the guns-blazing, body-count-mounting final act is a wasted opportunity — and not in a good wasted way. If only writers Rogen and Evan Goldberg (who also penned Superbad) had found a way to make the final 20 minutes truly uproarious, Pineapple Express might have maintained its buzz. As it stands, it's barely worthy of the munchies.