When she's not working as the national economics correspondent for Cox Newspapers' Washington Bureau, Marilyn Geewax enjoys looking at food.
"I become delirious at the sight of real peaches," the 53-year-old says.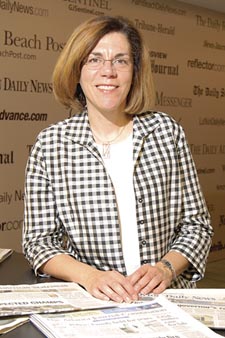 Marilyn Geewax
"In fact, we were driving by a farmers market on Sunday and I made [my partner] Maggie stop the car. We had all our groceries. We didn't need anything. We just kind of walked around and looked at melons and eggplants, just because we're so fortunate to be alive at a time when so much is available to us to enjoy."
Enjoying food and a handful of outdoor activities such as tennis, golf, bike riding and walking the dog, are just a few ways Geewax strives to balance the stress of her day job with the simple joys of life. Considering Cox publishes 17 daily papers across the country, finding respite from the crunch takes some effort.
"I think I work as hard at playing as I do at working, because it just feels right for me to balance that," she says. "Journalism, the downside of it, is that it can be all-consuming. Because there's this 24-hour news cycle now and you get caught up in it and all you're doing is thinking about news and chasing sources. You really need to not do that all the time.
"I come home from work to my computer and there's my work again. You can kind of go down that rabbit hole where all you do is sit starring at your computer. But part of the wholesome life is to have a balance and try to make sure your life is full of friends and family and playtime."
A native of Youngstown, Ohio, Geewax laid her District-area roots in 1999, moving here from Atlanta, where she had worked as a business reporter for Cox's Atlanta Journal-Constitution since 1985.
Along for the dynamic ride through newsrooms has been Maggie, Geewax's partner of 25 years. The pair met during Geewax's first professional job in journalism at the Akron Beacon Journal in Ohio and today make their home in Chevy Chase, Md.
Geewax says she has not come across blatant homophobia in the newsroom. Instead, she's watched as the field has "diversified," allowing more space for unique perspectives. She adds that is why it's essential for GLBT journalists to be out, to continue that expansion of diversity.
Geewax has promoted that notion as a member of NLGJA. Her efforts with the organization included serving as vice president of the D.C. chapter from 2006 to 2007.
"As a journalist, part of my life is truth telling. It's one of the great things about NLGJA, and one of the reasons I wanted to participate. [Being out] helps us tell the truth. It makes us better journalists.
"I think it's very detrimental to a relationship if you're a journalist and you're not out to your editors," she continues. "Part of who you are, what you bring to the experience, what you bring to the newsroom, is being a whole person. For me, that's important. NLGJA helps us to be wholesome, in a very traditional sense of being very whole."
Geewax hopes NLGJA will find new ways to engage journalists who work across new media.
"As traditional fields shrink, we've got to find a way to ensure that NLGJA will continue to grow and attract people who work for things like AOL or Yahoo! or Google, and get them to see that they have an interest in NLGJA."
While she's worked mainly in print journalism, Geewax has often offered commentary about economics-related stories on C-SPAN's Washington Journal and on CNN. It's something she didn't envision while growing up in Ohio.
"I thought maybe I would go into a medical field," she says. "Then I got to [Ohio State] and I was like, 'Math? Chemistry? No, not for me.' But I liked words and stumbled into the journalism program in my freshman year. I instantly fell in love. I knew I wanted to be a journalist. I walked in a newsroom and never walked out."