"I feel like there's a lot of ways in which being a [classical music] composer now is almost more weird than being gay," says Nico Muhly. "I feel like being both helps me understand the other better. This feeling of I'm doing something that not many people are doing sort of applies in both cases."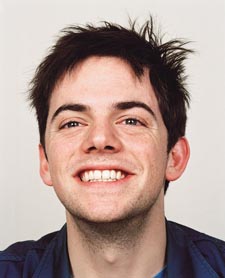 Nico Muhly
(Photo by Michael Schmelling)
Muhly, 26, grew up in New England as the only child of an artist mother and a filmmaker father. While a sophomore at Columbia University, he served as a technician for the famous avant-garde composer Philip Glass. "I was 18 and I went in there and never left," he says. Muhly regularly oversees the recording and editing processes of Glass' compositions, including his score for The Hours. Glass is probably Muhly's greatest contemporary influence, along with the gay composer Benjamin Britten.
"It sounds more experimental than it is, I think," Muhly says of his own music, including the three short scores he's just released as his second album, Mothertongue. "To a certain extent, my emotional home base is still the 16th century, so it's not particularly forward-looking." He's especially inspired by the Anglican choral tradition. In the past year the American Ballet Theatre and the Boston Pops have performed his compositions, and he's currently working on a commission for the Metropolitan Opera.
But Muhly gets a special thrill from his continuing work with eccentric pop musicians, including Antony Hegarty, of Antony and the Johnsons, and Rufus Wainwright. He's worked repeatedly with Björk, playing piano and arranging and conducting the brass section for her album Volta.
"Non-classical musicians have this insane advantage of really being able to get at the simplest idea and making it communicate," he says, adding that he has no designs on becoming a pop composer himself.
"I couldn't write a great pop song. There's no way. I just don't have that skill. I just don't have that tunesmith-y mind."
Nico Muhly will perform with Doveman and Sam Amidon Thursday, Aug. 22, at The Birchmere, 3701 Mt. Vernon Ave., in Alexandria. Showtime is 7:30 p.m. Tickets are $20. Call 202-397-7328 or visit www.birchmere.com.
EDITOR'S NOTE: The show is no longer at The Birchmere. It has been moved to The Parish Hall of the Episcopal Church of the Ascension, 634 Silver Spring Ave., in Silver Spring, Maryland. Tickets are $10. Doors open at 7 p.m. The show begins at 7:30 p.m.